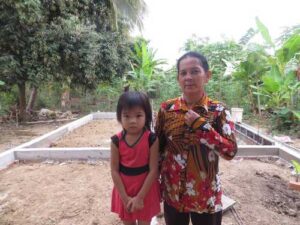 Battambang, KH – What started as a garden effort is leading to an improved home – 31 Mar 2020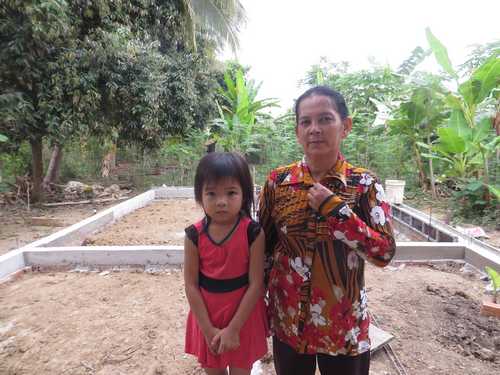 YY and her husband want to have a comfortable and secure space for their grandchildren to live and study. They have been living in an old, leaking and narrow home, which they want to improve. They have been inspired to do this by seeing how their good hard working grandchildren are caring and trustworthy.
Salee is the manager of the Healthy Life garden shop. It was his team that assisted YY to build her Food Always In The Home (FAITH) garden back in early 2013, and since then has mentored her about improvement techniques for the garden. A bond of trust has been built over the years, and now the shop team has encouraged YY's family to apply for a Home Improvement loan.
Salee listened to how YY and her husband would love to improve their home. YY wanted to improve her home instead of building a new one. Salee assisted her and her husband to plan what they needed to buy, how much it cost to build, who could build it, and how to write up a bill of materials and estimate the final budget.
He then guided them through their decision about applying for a loan and how they could repay it. The YY family were so happy that they could request a loan, and their children and grand-children were so very happy to hear that they could build a new living space.
Salee prepared the loan application to Better Lives, which located a lender who wanted to give a loan to YY and her husband who is a builder. YY's husband hired another builder and a laborer to work with him to build the house.
Salee's role is to be supportive and advise when he makes his regular garden mentoring visit. He advises as needed, on items like checking the quantity and quality of the work and materials, and assists with advice about how to act to correct issues.
The house is now being built and YY hopes to be finished on schedule because the grandchildren are waiting to have their own study space.