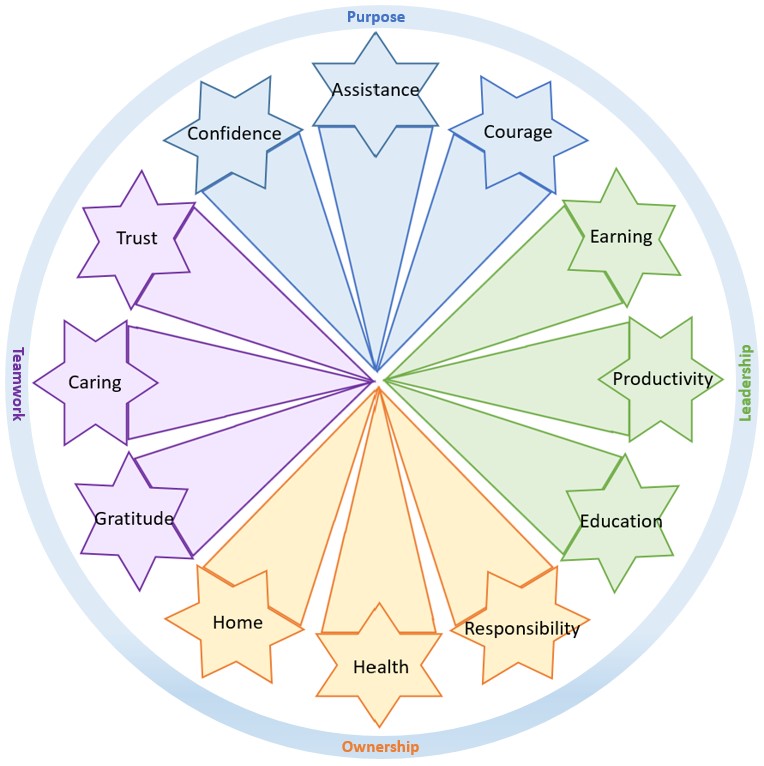 Our guiding values are our important beliefs. Our guiding stars! Our Better Lives family believe that Purpose, Leadership, Ownership and Teamwork are all very important for success. This is because values like these can be a frame of reference that assist family members to prioritize when they are considering important decisions that impact their future.
Purpose – successes build the confidence to plan, and the courage to respond to challenges and assist others.
Leadership – skills for leading by example come from education and training, and a track record of productivity and earning an income.
Ownership – family support provides a nurturing home, good health and encourages a sense of responsibility for one's thinking and actions.
Teamwork – spirit founded on mutual gratitude, caring and trust.
Purpose
Experience success that comes from having the confidence and courage to assist others to achieve their Purpose. Enjoy other people's achievements and in so doing experience fulfillment, contentment and enlightenment!
Leadership
Develop skills to increase productivity and earn an income. Over time education, training and experience combine to create wisdom to be shared with others.
Ownership
Have the support of a comfortable home, strong health and sense of responsibility so that you can demonstrate strong ownership for what you do. Be enthusiastic, energized, willing and able so that you can support your family and others.
Teamwork
Have a spirit of gratitude, caring and mutual trust towards others so that you can show and receive goodwill. Be considerate, converse responsively, collaborate and coordinate effectively with others.