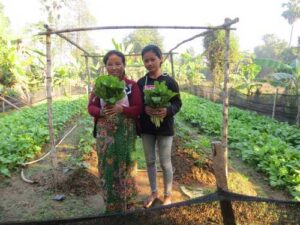 Battambang, KH – Life in Coronavirus time – 30 Apr 2020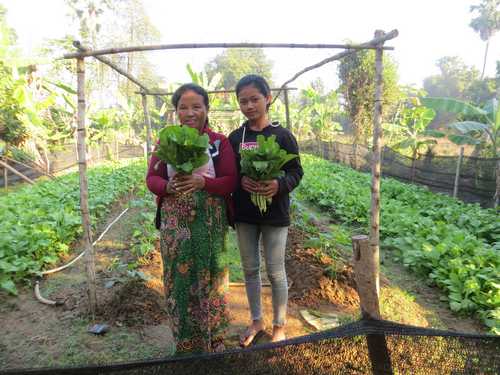 Families have been staying home and social distancing from others to protect themselves from the Coronavirus. While this keeps them safe from the virus, it means they have lost their income because they cannot go to work. SK has not been able to work as a farm laborer; however, her family fortunately participates in the Healthy Life garden shop's Food Always In The Home (FAITH) garden program, which means they are eating vegetables from the garden along with some emergency rice contributed by the shop.
The shop has a close mentoring relationship with SK and assists her by supplying compost when she relay re-plants her garden. SK contributes by growing seedlings for other families in the program when it is her turn. She schedules her relay re-planting of long bean, morning glory, lettuce and corn to ensure a continuous supply for feeding her children.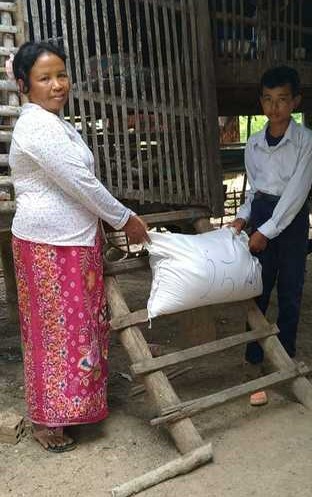 During the Coronavirus crisis, the shop has initially contributed a 25 kg / 55 lb bag of rice that will feed her family for about a half of a month, and will stay in contact to understand when she is able to return to her farm laboring job.
The weather might be helping to protect people from the virus because it has been extremely hot recently, with temperatures reaching the upper part of the 40-50 C / 100-120 F range. These very high temperatures maybe reducing the transmission of Coronavirus by killing the virus when it is on surfaces. Unfortunately, there is currently a shortage of water for the vegetable garden during this hot dry time!
The SK family wishes and prays that all the people who are suffering from these challenges will soon be safe and well. The family's children are also thankful to the shop that has supported their family and others during this difficulty time.