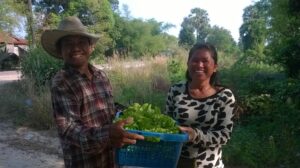 Siem Reap, KH – Family experiences many benefits from vegetable garden – 31 Mar 2018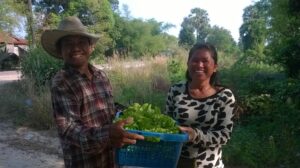 The KR family is enjoying the benefits that come with caring for an organic vegetable garden. The vegetable garden gives the family an opportunity to learn about growing fresh healthy vegetables, creates a fun experience, helps the family cut down their grocery bill, and encourages the family to make health a top priority.
Mr. and Mrs. KR live in Peaksneng Village with their three lovely children. The mother takes care of the children and helps the father with the farm where he grows rice, bananas, and a few kinds of vegetables in the rainy season. The family's primary income comes from selling the product they harvest from the farm.
Since the family started their organic vegetable garden they have seen both health and income improvements. They saved money to buy piglets to raise, purchased chickens and a cow, and have income to send their children to school.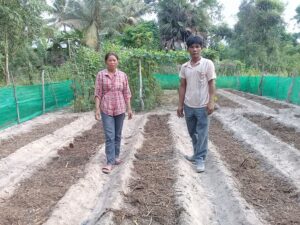 The father of the KR family says the garden has been an incredible learning opportunity for his children. They have learned about the weather, soil, different types of gardening tools, and about healthy alternatives for dealing with bugs and pests without using harmful chemicals on the plants. The garden has also been a very fun activity for the family. It has allowed the KR children to get their hands dirty and learn about where their food comes from.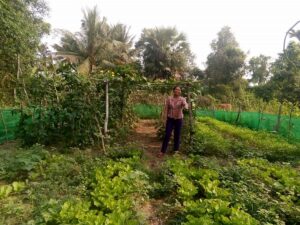 Although the family has experienced success with their garden, there are many challenges they have to face in order to keep it healthy and productive. Bugs and insects, such as grasshoppers, are particularly damaging. Drastic weather also poses a challenge because in the summer the drought can be very severe, and in the wet season there can be too much rain, which both cause harm to crops.
Looking ahead, the KR family hopes to continue to grow their farm and raise more farm animals like pigs and cows. They hope that with more growth they will be able to increase their income, continue sending their children to school, and one day own their own permanent house.