Moshi, TZ – Mwangaria Primary School students enjoying vegetables at school – 3 Mar 2018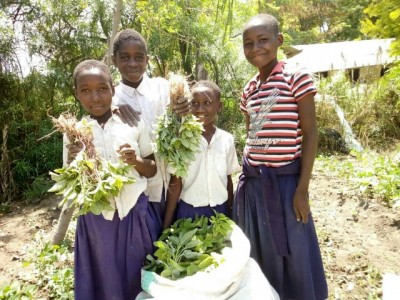 Students at Mwangaria Primary School are enjoying eating vegetables every day that breakfast is served. The fresh vegetables add nutrition and flavor to the student's porridge. The students are meeting their target harvest of 60 kilograms every 2 weeks. They hope to increase this by adding new vegetable gardens in 2018. They also plan to add more banana trees and grow corn and beans to improve their daily school meal.
Currently, the school has 4 12-bed organic vegetable gardens. They plan to add 2 more in 2018 as well as about 75 more banana trees. Acheiving their planting goals in 2018 will ensure they enjoy a meal at school every day in 2019.