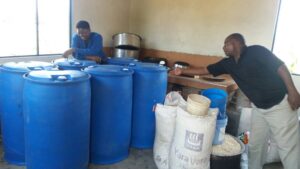 Moshi, TZ- Barrels donated by ISL Surrey provide useful storage for Primary Schools – 12 Feb 2018
Mwangaria and Maendeleo Primary
Schools received storage barrels donated by students from ISL Surrey and are already getting good use out of them.
The donated storage barrels are beneficial to the schools because they provide a large and safe space to store anything they need to. Both primary schools serve breakfast every morning using the food from their harvesting, and the storage barrels will be very useful in helping them organize and store the food.
The primary schools plan to continue to use the storage barrels throughout the year and are excited for the benefits that they will bring.