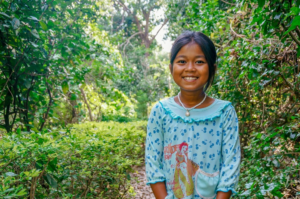 Battambang, KH- Vasin is proud of her education accomplishments – 31 Jan 2018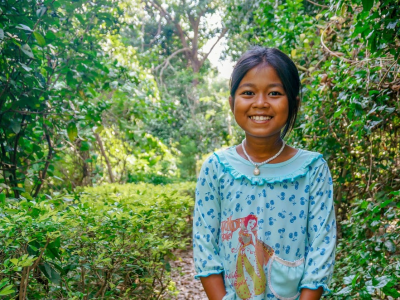 Meet Vasin, a very bright and determined 9-year-old who is one of CFI's star students. She started going to CFI's Learning Center in October of 2017 and has already been one of the organization's highest achieving pupils.
The intelligent fourth grader attends school at Prek Chhdor Primary School and afterwards goes to the CFI Learning Center. The Learning Center is where supplementary education is provided for students in the subjects of Khmer and Math, and depending on the each students' time and schedule, they can also receive nonformal education in English and Computer Skills. Thankfully, Vasin's schedule allows her to be able to study all four subjects while at the Learning Center.
Midway through the semester, the students at the Learning Center take exams in their courses. Vasin received a perfect score on her Computer Skills exam and got near to perfect scores on the 3 other course exams. Vasin said that keeping up with her courses from the Learning Center on top of all the lessons from public school was challenging. In order to combat this challenge, she borrowed textbooks from her teachers and notebooks from her classmates so that she was able to study at home.
Vasin is very proud of herself and happy with her achievements. According to one of the school's manager's assistant, Chenda, all of the teachers are very proud of Vasin and her accomplishments. Not only is Vasin exceptionally smart and brave, she is also a very hard worker which shows through her results.
When asked about what she wants to do in the future, Vasin said that she would want to be a teacher so that she can teach others in her community and support the next generation. The inspiring young student has abright path ahead of her, and will hopefully continue to grow and learn.