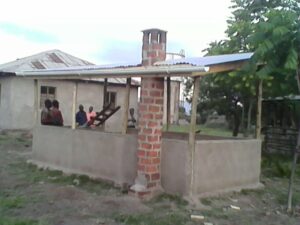 Moshi, TZ – New kitchen improves sanitation and efficiency of school breakfast – 13 June 2016
Students and teachers at Mwangaria Primary School are happy to have a new kitchen that will improve the hygiene and efficiency of cooking school breakfast. The kitchen uses the popular "rocket" heating design, which concentrates heat from burning sticks, as well as special bricks that conserve heat.
Tupendane collaborated with the Mwangaria to build the new kitchen. The old unsanitary kitchen had been a concern for parents in Mwangaria for years. The situation become more urgent when Mwangaria was given the opportunity to begin serving a daily school breakfast to students. Breakfast will be provided using a temporary subsidy and then harvested from a student-run school farm. Feeding nearly 350 students five days a week will require both hygiene and efficiency.
Tupendane improved hygiene by laying a concrete floor. This reduces the prevalence of dangerous bacteria that thrive in the mud. It is also easier to keep clean. When feeding so many students, hygienic issues can have serious consequences. The old kitchen would have been a dangerous place to serve so many meals from.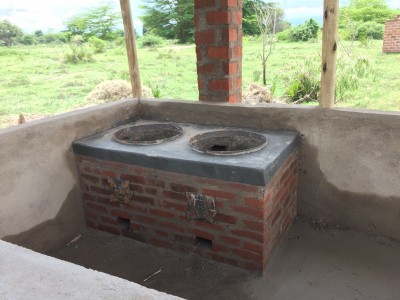 The high-efficiency stove can reduce firewood use by as much as 75%, helping to minimize time and money spent on wood as well as conserve local natural resources. The stove also provides a safe and hygienic cooking place.