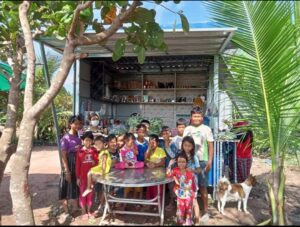 Siem Reap, KH – Supportive community is building children's confidence – 30 Sep 2021
The Rent-to-Own home community in Peaksneng near Siem Reap, Cambodia is proving to be a safe, healthy and happy environment that gives children more confidence about their future. This is because they feel like they truly belong in this supportive community.
Most of the families in the community qualified for a Rent-to-Own (RTO) home by caring for a productive Food-Always-In-The-Home (FAITH) organic vegetable garden. Now the combination of FAITH garden and RTO home is assisting parents and their children to grow physically and mentally healthy. The children are motivated to go to school because they eat enough food to be able to concentrate and focus on learning in class, instead of listening to their rumbling tummy and wondering when they will eat.
One third of the Cambodian population is under fifteen years of age, so Cambodia has one of the youngest populations in Asia. Today's 6 million children have the potential to become skilled citizens who can bring hope for the future in a country that is focused on re-establishing itself following the oppressive Pol Pot regime.
The progress has been not always been fair, there are obvious differences between children in the rural and urban areas, and between wealthier and poorer families. These challenges are often made worse by people's lack of access to education, healthcare, water, sanitation and housing. Thanks to BetterLives loans for family Rent-to-Own houses, there is now a supportive community for 37 children, who have predictable access to a safe home, clean water, sanitation and eduction.
The children still have challenges. An urgent one is how to study during COVID-19 when they do not have moble phones or laptops to use for online study. This is an immediate and important challenge because the children will be unable to receive the knolwedge and learn the skills they will need if they are to have the opportunity to get a good job in the future.