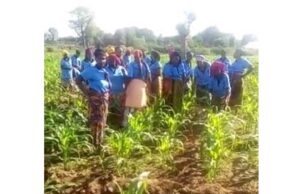 Moshi, TZ – Furaha Group expecting success – 15 April 2021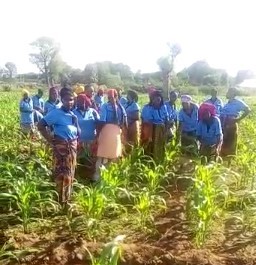 Social enterprise Tupendane gave Furaha group a microloan that assisted seventy families to grow corn. They might irrigate the two acres to protect their harvest in order to earn a good return for their agricultural input expenditures and field work.
The loan of 2,200,000 TZS ($956 USD) enabled the families to expand the group's planted area by an additional two acres. The loan has a low interest in recognition of the group members volunteering to work in the Maendeleo Primary School's cornfields to plant corn for their children's Grow-own-Breakfast. This assistance reduced Maendeleo Primary school's corn farming inputs budget by $417 USD or 26% of total costs.
In 2020, Furaha farmed three acres of corn and harvested 4,300 kg (9,840 lbs). If everything goes to plan in 2021, Furaha could harvest over 7,000 KG of corn that could sell for over 5,000,000 TZS ( $2,181 USD).
Despite adequate water resources available to Furaha for irrigation, their corn is suffering slightly from excessive heat. Normally, the Moshi region receives rain this time of year, but, unfortunately, minimal amounts of rain fell. Despite this setback, Furaha is expecting a decent harvest and is developing their plan of opening up a fish pond as their next loan project.