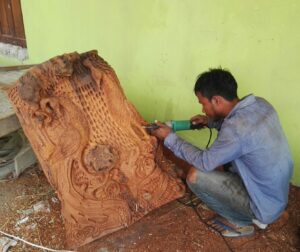 Siem Reap, KH – Wood carver dreams of home on plot of land – 28 Feb 2021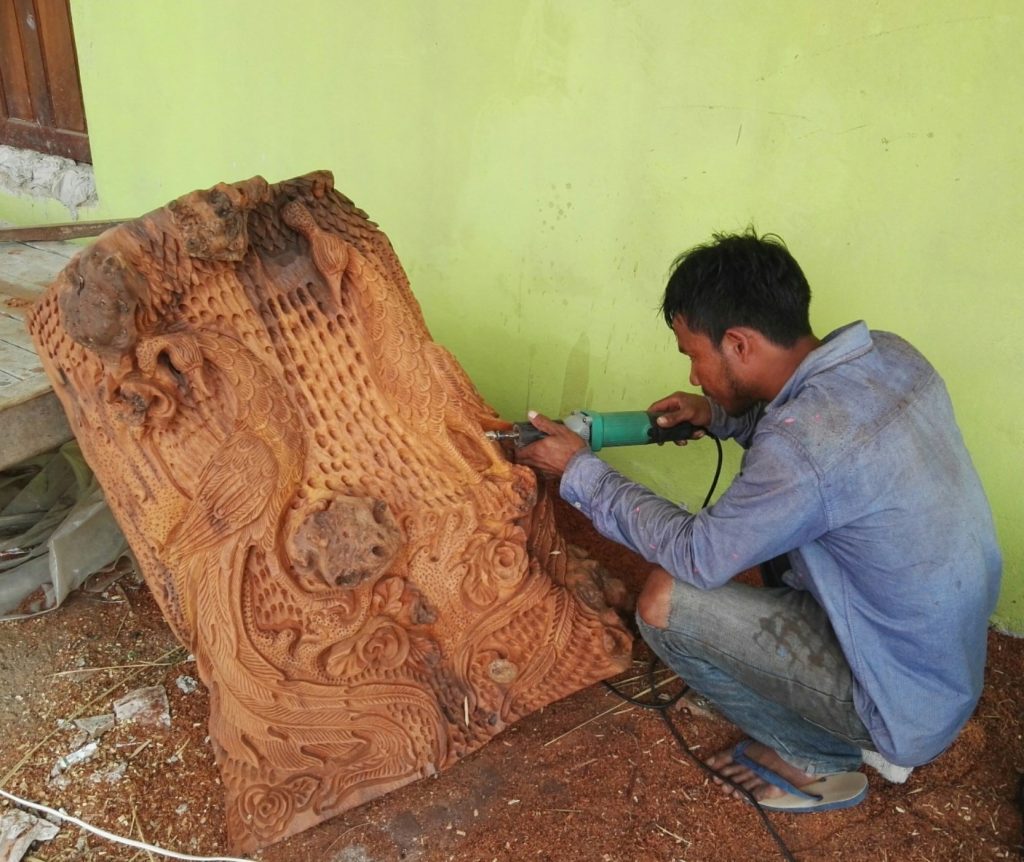 Le Mao carves wood beautifully. Despite the popularity of his quality work, he is not rich and has had a dream to live in a Rent-to-Own home since the program started in 2015. His dream is to have a plot of land and a home, so that he can have a comfortable place to live with his family and also work.
In Cambodia, wood carving came after stone carving, which was popular during the 1181 to 1218 AD reign of the Jayavarman VII the most famous Khmer King of Angkor. He built magnificent stone temples and over a hundred hospitals. After his reign, stone carving declined and almost disappeared. Later around the XVth century, with conversion to Theravada Buddhism, the wood carving era started.
Rey, manager of Peaksneng Thormacheat knows a local wood carver Le Mao, whose ancestors have lived off the profits of their skill and expertise for many generations before him. He is 25 years old and a resident of Peaksneng Village, Siem Reap. He is married to Ni Kumsonghas, and together they have 2 children. In 2015, Rey met Le Mao when assisting his cousin to build a family vegetable garden, and later introduced him to Chris Wade of Better Lives during his visit to Peaksneng in 2016. Rey and Chris found him very kind, humble and clever. Mao works as a carpenter as well as a wood carver. He has carving in his DNA, and was also taught carving skills by a foreign visitor at the age of 15. Mao wants to pass on his skills to the younger generation whenever he has the opportunity. However, sitting in his workshop, he says that his family and the young people in Peaksneng are not interested in joining the wood carving industry. Even so, he still wants to preserve the skill for the next generation by assisting the underprivileged young people in the village to learn wood carving. His ambition is to keep traditional knowledge of wood sculpture alive for the next generation.
He learned to carve wood from his teacher, who first refused to teach him because the knowledge of art would not make him rich, and told him it would be too difficult to learn. Le Mao says: "I can still remember when I showed my teacher a piece I had carved. He praised me saying that I have a gift". After that his teacher decided to teach him everything he knew. Le Mao started carving for a living in 2014, selling numerous pieces to customers because the quality of his products became popular all over Peaksneng.
Despite the popularity of his work, he is not rich and has had a dream to live in a Rent-to-Own home since Rey started the program in 2015. His dream is to have a bigger plot of land than he owns now, and a home so that he can have a comfortable place to live and work with his family. He is a candidate for a Rent-to-Own home this year 2021.