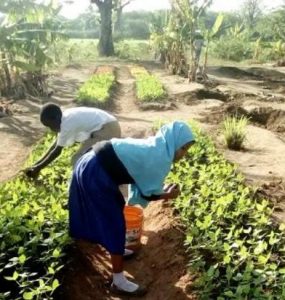 Moshi, TZ – Two Maendeleo Primary School students receive Best Gardener Award – 15 Feb 2021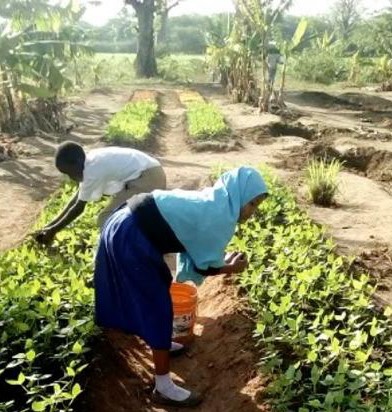 This year, Tupendane and Maendeleo Primary School celebrated 2020 School farming and gardening successes. However, due to the Coronavirus, the community decided to acknowledge particular individuals rather than hosting a community celebration.
Tupendane presented awards for Best 2020 Gardener to Obama Robert and Swaumu Mwamedi for their continued dedication to the Grow-own- Breakfast program. Obama and Swaumu participated in 100% of the days working in the gardens. Additionally, other garden club students recognized them as the Best Gardeners.
For their efforts, Tupendane provided the students with new backpacks, shoes, some necessary materials for school learning, and a certificate. The work of these two students and their fellow gardeners contributed to 3,354 Kg / 7,400 lbs of vegetables served. The Maendeleo Garden Club ensured each student received 23 grams of vegetables per day; exceeding the 15-gram target. This is over a quarter of the daily recommendation for leafy green vegetables (cited article)!
Currently, an unexpected disease affecting bananas has affected some of the school's bananas as well as many banana trees in the Kahe ward. Tupendane and the ward schools are seeking assistance from the local agricultural extension officers while they assess the root cause of the disease.
Meanwhile, students like Obama and Swaumu are routinely maintaining the gardens and staying vigilant about the disease. They hope that next year's celebration can be bigger and make up for all the time lost during the Coronavirus pandemic.