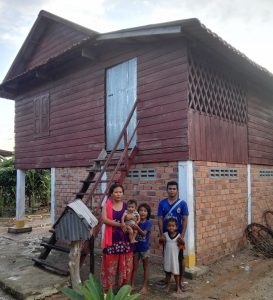 Siem Reap, KH – KN family is growing and improving their rent-to-own home – 31 August 2020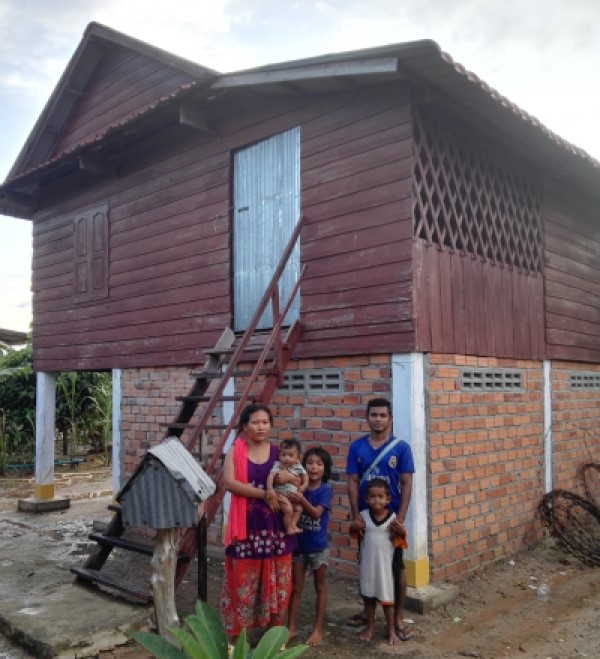 The KN family's children are growing fast, and the family now has a young child. They have also added a brick wall room to the ground floor of their rent-to-own home. They love to relax in the cool of this brick walled room during the heat of the day, and the livestock and a motorcycle are safe and secure in the room at night.
They are maintaining a Food Always In The Home (FAITH) garden on their 6,500 square ft. / 600 square meter rent-to-own plot, which they use for family vegetable consumption. They extended their garden to earn extra income by selling vegetables. The children are growing up healthy because they now eat enough food from their garden, and work in the garden because they know that they benefit from growing vegetables.
KN purchased a motorcycle as a means of transportation for taking vegetables to the market and their children to school everyday. It has not been used for taking the children to hospital so much as before because they are now strong and healthy, and feel happy in their secure home during the rainy season. Regardless of the season, the house continues to provide security, peace in mind, relaxation and good emotional energy.
The family face the same challenges that their neighbors face, like maintaining a productive garden free of root rot and disease when the heavy rains bring flooding. Also protecting the garden from their neighbors' stray animals like chickens, ducks and dogs who come and destroy their garden.
Despite these challenges KN and his wife still dream. As KN says "my dream is to make my children educated so that they won't be like us their parents."