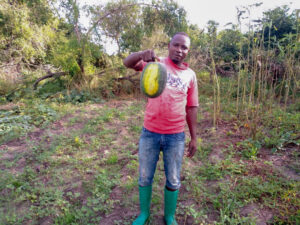 Utete, TZ – Dickson harvests Sesame seeds – 15 July 2020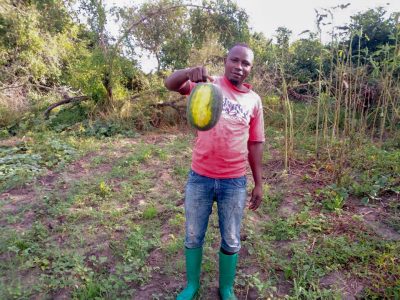 Dickson Taji, KCM transportation manager and owner of the Toyo business invested in 2 acres of land to grow sesame seeds as a cash crop. While he earned a fair profit, it wasn't the amount he was hoping for.
At the beginning of 2020, Dickson invested a part of his salary to grow Sesame seeds on 2 acres of land near his home. His total investment was 150,000 TZS ($ 65 USD) and his total revenue after harvesting was 462,000 TZS ( $ 200 USD). That is a major profit margin for smallholder agriculture! Additionally, he found a bonus of pumpkin growing in the field to enjoy. However, Dickson was hoping to receive 960,000 TZS ( $417 USD) in revenue but experienced some challenges due to weather and the effects of the global market.
As for the next steps, Dickson is deciding what do to with his net income from this project. Having an additional 312,000 TZS ($ 135 USD) gives his family some flexibility in their choices. However, he is looking forward to reinvesting in another project.
This year he faced challenges with heavy rains causing the sesame flowers to droop and lower the fertilzation rate. After harvesting, he sold the Sesame seeds to the local government official responsible for collecting the seeds. As it turns out, Tanzania was late to the sesame seed global market and recieved a lower price due to over supply, this meant in the end a lower price for the grower.
Dickson hopes to continue investing and diversifying his income streams so he can ensure financial sustainability for his family.