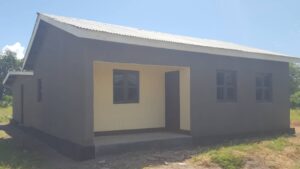 Moshi, TZ – Housing improvements help bring more teachers to Mwangaria Primary School – 15 Jan 2019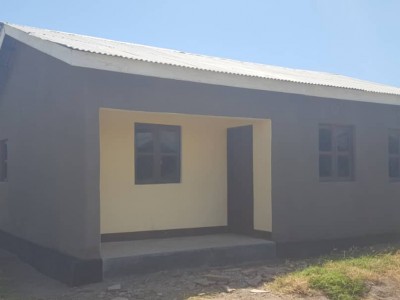 Three new teachers have started working at Mwangaria Primary School since Tupendane finished improving one of the teacher housing units at the school. Two more teachers committed to joining the staff in 2019. That will bring the total number of teachers at Mwangaria Primary School to nine full-time teachers. The school had just three full-time teachers and one headmaster for over 450 students prior to improving the housing.
Tupendane manager Deo Matemu explains, "The issue here – we can say the root cause of the situation – is that it was very difficult for a teacher to live in Mwangaria because there is not enough adequate housing. Many teachers were placed here by the government and they would say 'I cannot travel ten kilometers every day to the closest housing, and I cannot live in that unsafe teacher housing.' So those teachers would show up and leave immediately.
"That was one issue. Another issue was [the] number of teachers. There were not enough teachers. Who would want to be in that impossible situation? One teacher per 150 students. So once we had at least two new teachers living in the house, other teachers would come and say 'Yes, I have to travel ten kilometers every day, but at least I am part of this large team of teachers.' So now we see this continuous improvement from one single improvement of the teacher housing."
In 2019, Tupendane and Mwangaria will continue collaborating to achieve food self-reliance at the school. Student garden clubs will maintain banana and vegetable gardens for daily school breakfast. A parent Task Force will farm corn and beans to supplement the meal. These efforts demonstrate Tupendane's holistic approach to enhancing students' education. Tupendane places focus on the Learning Environment (elements that enable students to learn effectively like hygiene facilities and daily nutrition) and the Teaching Environment (elements that enable teachers to teach effectively, like safe housing).
Students from Rollins College started the housing improvements in the summer of 2017 and students from ISL and Frensham continued the work.