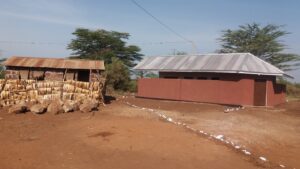 Moshi, TZ – Tupendane, Kiterin, and Goat Races celebrate 7th school toilet – 17 Mar 2017
Tupendane completed another successful school toilet project. The new toilet block at Kiterin Primary School is the seventh Tupendane has built for a primary school in the Moshi Rural area. The toilet block will serve 467 students and 10 teachers. The Dar es Salaam Charity Goat Races funded the project. 2016 was the third year in a row Tupendane was awarded a grant by the annual event.
The new toilet block includes a boys' wing with three holes and one urinal, a girls wing with five holes, a storage room between the two wings, and a septic tank.
Kiterin Primary School's previous toilet block was decrepit and insufficient for the school's population. The unsound structure presented physical dangers to the students, who could have been hurt while using the toilets. The insufficient size and septic system created a sanitary risk as well. Many students opted to use the surrounding area instead of the toilet to go to the bathroom. Open-defecation is a leading cause of cholera outbreaks.
The biggest challenge Tupendane faced in completing the toilet was caused by weak soil composition. The walls of the septic pit caved in as the construction team dug out the pit. They solved the problem by lining the bottom of the septic tank with rocks to reinforce it.
Tupendane's hope is that every school with sufficient sanitation can one day support a breakfast program. They are currently proving a Grow-Your-Own breakfast program at three pilot schools.