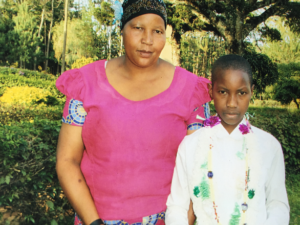 Mt Kilimanjaro, TZ – Mother uses VICOBA to give son chance at his dream – 7 Dec 2016
The AJN family has been able to help one of their children, Aidani, attend private school by using VICOBA loans to time their family cash flows with school fee payments. Aidani is looking forward to finishing his first year of seminary school this month.
Aidani is the fourth of the AJN family's six children. He has always been exceptionally bright and driven to succeed in school. He finished primary schooling at the local government school and earned one of the highest scores in the district on his national examination. Aidani then asked his parents if he could attend a private secondary school so he could try to make the most of his potential. Since he first started attending church as a young boy Aidani has said he wants to be a preacher.
Mr and Mrs AJN felt sure they couldn't afford to send Aidani to a private school but they agreed to do their best.
"He makes us smile," explains Mrs AJN, "we don't know why he is so smart or how he got this love of school but we are so happy to see him succeeding."
Still, she admits, it is a struggle she's not sure they can overcome. "It is so expensive and we are just small farmers. How can we get this much money every year? But we have to try. Aidani says once he gets an education he will take care of all of us."
As promised, Mr and Mrs AJN are doing all they can to keep Aidani in school. Loans from their VICOBA group have played an important role in this.
In January, Mrs AJN received a 50,000 TZS loan which she used to buy school supplies. "Without that loan," she says, "he would have started school with no pens, pencils, or notebooks. He would have immediately fallen behind. It took us two months to repay the loan so he would have been at school for two months without supplies."
Mrs AJN repaid the loan with proceeds from a small store she operates at the market selling essentials like sugar, salt, and rice.
In April, Aidani was sent home from school for falling behind on school fees. He owed 200,000 TZS (US $95). Mrs AJN quickly requested a 100,000 TZS loan from her VICOBA and sold sacks of corn to cover the difference. She then repaid the 100,000 TZS loan by selling finger millet which she had been storing at home waiting for the price to go up. Without the loan she would have had to either keep Aidani out of school for 2 months or sell the finger millet during the low price season.
Mrs AJN received her third loan from the VICOBA in September for 200,000 TZS to finish the 2016 school fee payments. Currently she is making minimum payments on the loan. She plans to repay it in full after the next harvest season in early 2017.
All of the AJN family's loans are backed with livestock as collateral. The 50,000 TZS loan was backed with chickens and the larger loans have been backed with the family's cow.