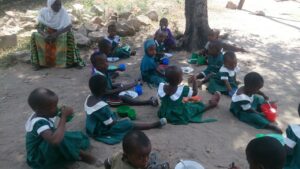 Utete, TZ – KCM increases community impact while moving towards sustainability – 29 Jul 2016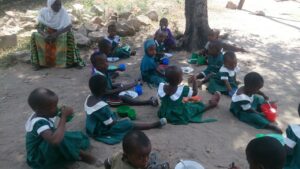 KCM Garden Shop is now supplying the local kindergarten with vegetables five days per week. They have also completed preparations for a watermelon farming project which they hope will be a key piece of their financial self-reliance plan.
Since the beginning of 2016 KCM has been expanding their vegetable gardening area with the goal of supplying vegetables to the 63 students at the local kindergarten every school day. Since the beginning of July they have been able to provide organic vegetables on a daily basis. Tatu Mtumbi is the head teacher at the kindergarten and she wrote a letter to KCM expressing thanks for their support of the students:
"First we are giving many thanks for supplying vegetables at our school. Truly the students are eating so well now and they are eating every variety of vegetable. They love all of the  different vegetables and even us teachers we are eating the vegetables and giving our thanks to KCM. We are happy to see the project continuing because at the beginning we got vegetables just once or twice per week. Now the students get vegetables every day."
The garden shop is also prepared to begin planting watermelons on a ¼ acre demonstration plot. If the plot shows that the project can be profitable on a small scale, the shop hopes to grow from a ¼ acre to multiple acres and to find other cash crops which can supplement staples like corn, rice, and beans.