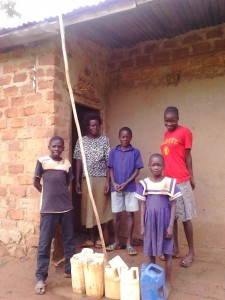 Kikondo, UG – Harvesting water saves time and allows children to focus on studies – 1 May 2016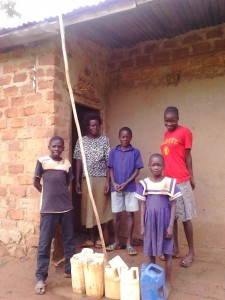 Mama FMJ no longer tells her children to go collect water when they return home from school. Now she tells them to study and read. After attending Wamukisa's water training she built one of the simple, free systems taught in the training.
The father of the FMJ family passed away a few years ago, leaving Mama FMJ to look after their seven children by herself. Water access has been a problem for the family. The children were often late for school because when they would go to the spring to collect water they would end up playing with their friends and not going to class. During this rainy season the family is harvesting all of the water they need so now Mama FMJ can send her children straight to school in the morning and keep them focused on studies when they return home in the afternoon.
The harvesting system (pictured) uses an old piece of corrugated iron folded up as a gutter and a stick to guide water from the gutter to old jerry cans. Currently the system's capacity is limited because the family doesn't own much storage capacity. They are hoping to increase storage capacity in the future by purchasing more jerry cans.
If she can increase her water storage capacity, Mama FMJ hopes to open a garden using the FAITH Organic Vegetable gardening practices Wamukisa is demonstrating in Kikondo.