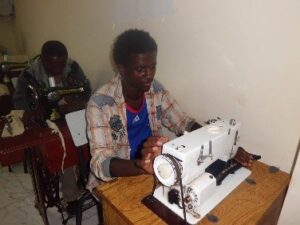 Addis Ababa, ET – Tailoring training helps young man support his family – 6 Nov 2015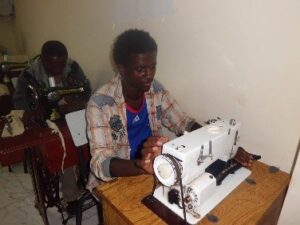 After a difficult start to life, a young man from Ethiopia is using vocational training to support his mother and three younger siblings. He is multiplying the impact of his training by enabling his younger siblings to continue attending school.
Ermias comes from a small village in rural Ethiopia. After his father passed away when Ermias was very young, his widowed mother struggled to support Ermias and his three siblings. Ermias felt he had no choice but to drop out of school when he was fifteen years old to look for work to help support his family.  Unfortunately, jobs were scarce in his remote village, so Ermias made his was to the capital city of Addis Ababa in search of work. Things didn't go as planned. Work was scarce for an uneducated teenager, and he struggled to survive on the streets for over a year.
One day Ermias encountered one of Retrak's outreach workers who told him about their programs to help young people like himself. Ermias expressed an interest in a tailoring training program so Retrak sponsored him at a local vocational school. Two years later, Ermias has graduated from the program and is employed at a private garment company.
Ermias is now eighteen years old and is earning a living and supporting his mother and siblings. Ermias' income allows all three of his siblings to attend school. His dream is to open a tailoring workshop of his own back in his home village and create job opportunities for local youth.