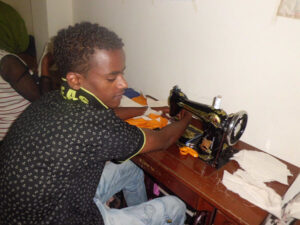 Addis Ababa, ET – Vocational training helps youth move towards self-reliance – 15 July 2015
Tamirat is 17yrs old. He came to the streets of Addis Ababa, Ethiopia, a year and a half ago due to a conflict with his stepfather. He is originally from Oromya, one of the biggest regional states of Ethiopia. He was also the 1,000th registered child in Retrak's history.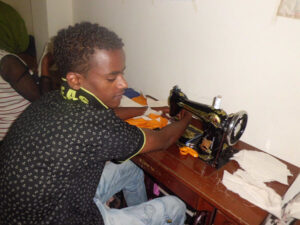 Tamirat joined Retrak's Vocational Training Program in August 2014 to learn tailoring. Tamirat had a difficult start in the program; his poor behavior aggravated the teachers and Tamirat felt alienated and alone. Fortunately, Retrak's counselors worked with Tamirat and in time he changed his attitude and behavior and apologized to the teachers at the training center. Tamirat was able to catch up on the training he missed and graduated from the program in March 2015.
Now Tamirat is working for a private garment company and is earning a living. By the end of this month he will move to fully independent living. He is an amazing youth who moved from prejudice to prestige!
Story written by Fekadu Daba
Retrak Ethiopia