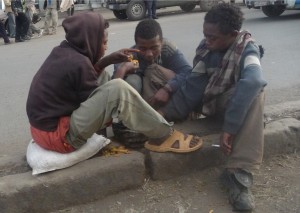 Addis Ababa – Retrak helping boys move off the streets – 11 Apr 2015
Between April 2014 and March 2015 Retrak served 13 boys in its Vocational Training Program in Addis Ababa. This was two more than their original goal of 11 boys. As of January 2015 eleven of them are still enrolled in the program.
Five boys found jobs in different garment companies after successfully finishing their VOT. Retrak encourages and helps the boys to keep their jobs. The experience of finding new jobs after completing the VOT has had a major impact on boys' aspirations.
One of the independent young boys has decided to open a garment shop. To do so he is thinking of purchasing all the equipment required to set up his business, such as a sewing machine. Retrak staff encouraged him to develop his entrepreneurial project, since it is a way to achieve economic independence.  Retrak staff visits the other boys every Monday to pay their living expenses and check whether they have any concerns.
Over the course of last year, two boys dropped out from VOT and returned to the streets. Retrak is aiming to visit the boys enrolled with the program on a weekly basis to talk with them about any concerns they may have in order to prevent them from resigning from the program.
Retrak is improving its programming by recruiting community mentors to support recent VOT graduates. In December ten community mentors from local churches were selected to be part of the volunteering program. After a careful assessment, the volunteer mentors were successfully trained on basic mentorship and matched with recent graduates. One of these mentors is a VOT graduate who lives independently.
One enrolled student dropped out of the VOT program because his older brother, who is a professional engineer, offered him a place to live and work.  Retrak staff spoke to him about not dropping out of his training. However, he was happy to be close to his brother again. Retrak offered another boy his place at the VOT training center to replace this vacancy.