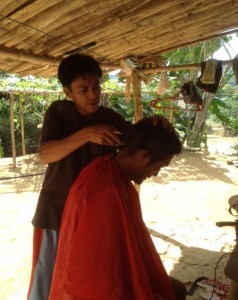 Caba, La Union – Vegetable garden helps reunite family – 22 Mar 2015
BT and DT are a young couple in their mid- twenties with an energetic four year old son. As parents, they want nothing more than to be able to support their son. When they were only the two of them, life was not much of a struggle. They had both come from poor families, so they could not afford to attend college. In spite of their limited education, they managed to get by. Father BT became very adept as a barber, and he had a growing list of clients. This enabled them to buy a very modest starter home.
When GT was born, they found their income was too limited to keep up with the added expense of raising a child. Father's income fluctuates, and they needed something more stable. With GT nearing the age where he would start going to school, mother decided to work for her relatives in Manila as a maid to ensure her child can be provided for. This meant not seeing her family during the week, but seeing them on weekends and during her summer vacation.
Father and mother are a resourceful couple. They knew they had to do more than cutting hair and working as a maid to improve their livelihood. When they learned of Happy Shine Garden Shop offering help with building a Food Always In The Home (FAITH) vegetable garden, they signed on with the program. Soon after building the garden, they were growing nine beds of pechay (bokchoy).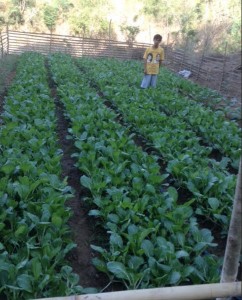 The vegetable garden has boosted the family income quite considerably, and this enabled them to qualify for an emergency loan from Better Lives to help them repair their toilet. Father and mother have proven themselves to be very responsible and hardworking people. It is because of this that they qualified for a loan.
Father and mother want their son to have good opportunities in life. Therefore, they are working very hard so that one day he can go to college if he chooses to. They are also saving to repair and improve their home.
The biggest challenge for the family is not being able to see each other during the week. Their separation is hard on them, especially on the little one when he is not seeing his mother. However, they feel this is only going to be a temporary arrangement, especially now that they have an extra income from the garden.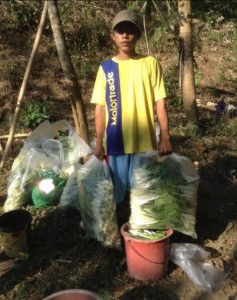 The family started their garden by growing bokchoy because it was the easiest to grow, and it was also one that yields abundantly. Now that they have the experience and knowledge to grow a garden, they would like to expand by adding different vegetables. Having a variety of vegetables will reduce their food expenses and also enable them to cultivate their land all year round. Once they can do this, mother will not need to work far away from her family, and they will all be very happy to be together all year round!