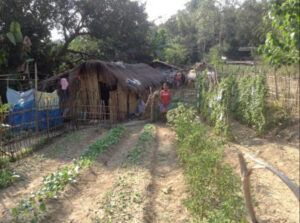 Caba, La Union – Vegetable garden offers brighter future – 21 Mar 2015
The AN family feels that their lives are about to transition into something better. Mother and father were married at a young age and now they have three beautiful children, a boy and two girls ages nine through sixteen. They would very much like to fully provide for their children, but it has been a constant struggle all their lives. It is not easy to make a living when both parents did not finish high school.
The family makes a living primarily by producing wooden skewers, or what the locals call barbecue sticks. They make them by hand, and it's a family effort. But in spite of all the hard work, they only average an income of approximately PHP 3,200 (US$70) per month. The only reason they are able to survive on their meager income is because they live with the grandparents. Oftentimes, they've had to borrow money from their family and friends when they can't make ends meet. Mother also works as an occasional housekeeper when work is available.
Establishing a Food Always In The Home (FAITH) garden has been the recent improvement. When word got out that the local Happy Shine Garden Shop was assisting families by teaching them sustainable practices for growing vegetables, the family applied for help building a garden.  The promise of the garden is that it helps with the family's nutrition, but also provide a steady stream of additional income. The family's eagerness to improve their income has helped the family grow their garden quickly. The garden now helps feed the family and so reduces their food expenses, it also produces surplus crops that the family is able to market and sell.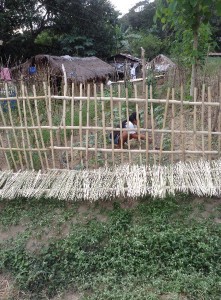 The increase in the family income has helped the family focus more on the needs of their children. They no longer feel bound to their creditors, worrying about how they will pay their creditors and feed themselves the next day. They feel that a huge burden had been lifted from their shoulders.
Prior to the FAITH garden, the children often wondered how they might have a future that is different to their parent's life. Their eldest daughter is a very bright child who wants to be a teacher, but she hasn't put her heart into studying because she feels she wouldn't be able to afford going to college, and her efforts would simply go to waste. But recently, seeing her family income grow has given her a huge boost in her self-confidence and has encouraged her to study harder. She is now one of the best students in her class and feels she has the opportunity to go to college.
The family is grateful that they are able to stay with the grandparents and to not have to pay rent. However, the living conditions are very poor. Mother and father have had to raise their children in cramped spaces with no working toilet. They worry even more when typhoons strike that their poorly built home will get damaged or even worse it might collapse.
The AN family would like to grow their small scale garden to a bigger garden that can yield more crops and bring in more income so they can send their children to school and eventually college. Organic crops are growing in popularity among the Filipinos, and they believe they can tap into this opportunity. They continue to consult the Happy Shine Garden Shop staff to learn more about sustainable farming techniques, and they believe they are on the right track to a brighter future.