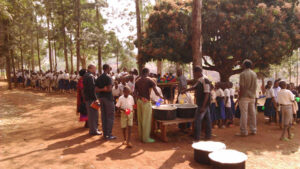 It is very difficult for students to understand and retain information when they are distracted by hunger pains. School breakfast programs are one of the best ways to improve educational outcomes. Better nutrition raises school attendance and students' attention in class, and this helps increase children's grades.
2013-2014 Breakfast Meals Provided: 1,540,952
What We Do
Better Lives funds breakfast programs that serve over 4,000 students per day in eight primary schools in Tanzania. Local partners serve porridge made from a specially formulated breakfast porridge high in fatty amino acids and proteins that aid brain development.
How We Do It
Better Lives' partners provide breakfast to primary school students with an initial subsidy of 100%. This subsidy declines over time as families in the community achieve food self-reliance by implementing organic vegetable gardens and starting small businesses.
Self-Sustaining

Breakfast programs help our partners build relationships with schools. These relationships can be leveraged to start FAITH Organic Vegetable Gardening programs at the schools. As more families in the community achieve food self-reliance and increase their incomes, breakfast subsidies can be reduced and the program can be support locally.