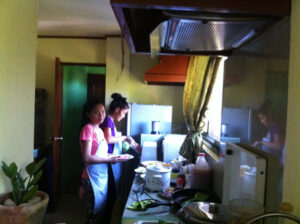 Caba, PH – An education scholarship helps the family – 23 Dec 2014
Family history:
EB is the second youngest child in the DMB family, and she is a ninth grade Waves of Love Assistance Fund scholar. Her parents have eight children and do not have the financial means to send all of them to school. EB's older siblings are ages eighteen to thirty, all of whom did not finish high school except for one. Her father used to work as a full time janitor for a beach resort before he fell ill, and her mother washes clothes by hand for a living. EB lives with her parents along with her thirteen and eighteen year old brothers. The rest of her siblings are now all married, raising families of their own.
Family Achievement:
EB's older brother, PB, was an original Waves of Love scholarship recipient. He showed a lot of promise at school and was nominated by his teachers for the scholarship because of his excellent grades. While a scholar, he also worked for the Happy Shine Garden Shop. He learned a lot about sustainable gardening and brought his knowledge home. PB trained EB and their parents on how to cultivate their own Food Always In The Home (FAITH) vegetable garden to produce high yield organic crops.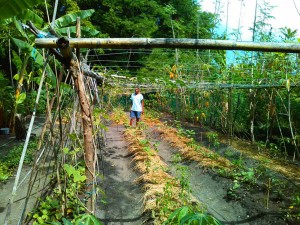 Seeing how much their parents struggle to provide for the family, especially with their father's illness, PB decided to relinquish his scholarship so he can find work and help with the expenses. He then nominated his sister to take his place. The Waves of Love granted EB the scholarship because of her good grades and her dogged determination to help her family. EB is one of the top ten students in her class. When she is not out helping her family with their garden, she also volunteers at the Waves Learning Center's Buleng's Fusion Café in the in her spare time. She cleans, cooks and shops for ingredients.
Benefits coming from the achievement:
Today, thanks to EB and her brother PB's efforts, not only does the family FAITH garden provide food for the family but selling the surplus crops earn them 2,000 pesos ($45 US Dollar approximately) per month to help with their daily needs. The scholarship is another big help to the family. Not having the added expense of paying for EB's school fees frees up the family earnings to take care of other needs. This helps ensure that EB's younger brother can also stay in school and will not be obligated to drop out like their older siblings had to do because they could not afford to stay in school.
Dreams for the family and children:
The DMB family's biggest dream is to see the children finish college. EB aspires to become a nurse and will be the very first in her family to attend college as long as she remains a scholar. Being a nurse will enable her to serve her community and also help ease the financial burdens of her parents. With her nurse income, she can help pay for her brother's college tuition and fees. Helping others has always been her dream, and she already demonstrates altruism at such a young age with her volunteer work and helping her parents with their garden.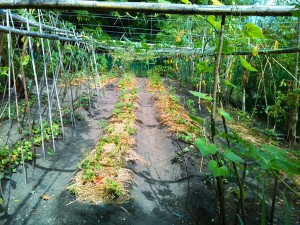 Challenges for the family:
Challenges remain for the family. Despite EB's scholarship and the income from the garden, the loss of the father's job has significantly drained their financial resources. They live in a small house with no electricity which makes it challenging for the students to study at night. Caba is also prone to major typhoons that have destroyed their crops on a few occasions.
Enhancement ideas for the family:
Setbacks from typhoon damages do not deter the family from moving onto bigger ideas. The garden currently produces bitter gourd, tomatoes, string beans and green chili peppers. They would like to ensure the garden is in use all year round, so they are working with the Happy Shine Garden to add more variety to their harvest. The goal is to save more money so they can afford to have electricity and some savings for a rainy day fund.