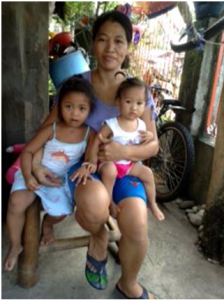 Caba, PH – Family aspires to build a home of their own – 3 Dec 2014
The FRN family aspire to one day be able to have a home to call their own. A simple hut is all they wish for at the moment. They currently live with the father's parents along with their two toddler girls, ages one and three. Father and mother also dream of being able to send their children to school so they can grow up to be self-sufficient.
The family are active participants of the Food Always In The Home (FAITH) vegetable garden program, and they are currently being mentored by the Happy Shine Garden Shop (HSGS) team. They were originally selected for help with building their FAITH garden because of their willingness to learn, as well as their poverty. They also demonstrated that they have the WILL to improve their situation. To qualify as a recipient, they must possess the WILL to succeed: Water, Interest, Land, and Love for their children. Meeting these requirements increases the chance that they will achieve their life improvement goals, with proper mentoring and some financial assistance in the early stages.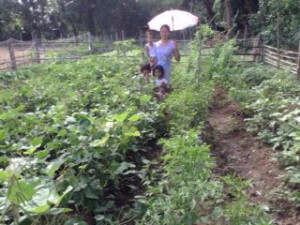 The parents are hard-working people. It didn't take them long to set up their garden, and their harvest has been bountiful. They are able to feed the family and earn income from the surplus vegetables. The bitter gourds are their best selling vegetable. It is a favorite of the locals and is a key ingredient for many of their dishes. They are able to produce bitter gourd in large quantities, which helps them meet their daily food and income needs.
In spite of their garden's success, the family still faces some challenges because the father lost his job as a driver. They were living on 5,000 PHP (US$ 125) a month before he lost his job. Caring for two young children also makes it difficult to tend to the garden, but both husband and wife take turn switching their duties. Amazingly, they still find time to volunteer at the Waves Learning Center where their 3 year old attends pre-school. It is through the center that they were introduced to the FAITH vegetable garden. Their three year old daughter is able to attend school for free thanks to sponsorship by the center. The parents like to express their gratitude by volunteering to water the plants and wash dishes at the center.
This young family remains upbeat about their chance of improving their life. They believe that if they continue to learn ways to improve their harvest, they should be able to build a hut soon.