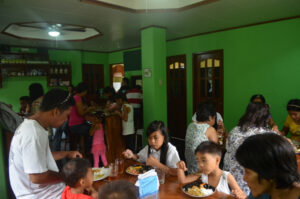 Caba, PH – Buleng's Fusion Café is growing – 11 Dec 2014
History:
Unknown to many except those closest to her Edita, founder and late President of Waves of Love Assistance Fund, once dreamed of owning a restaurant or café. It was one of her many dreams. Although she achieved plenty of her dreams during her lifetime, she wasn't able to carry this one out. Her heart of gold meant that she had put her eight children's and her community's needs above hers. This meant that she worked as a tutor and a teacher to provide for her children, and her and her husband's incomes all went to supporting their needs. Consequently, it was almost impossible to save for a café. When she eventually retired, she decided to found Waves of Love to help provide relief to the disadvantaged in her community. As a result, time constraints prevented her from opening a café.
Because of her fondness for cooking, she took a few culinary classes during her spare time while in the midst of raising a family and working. She always dreamed that one day she might share her passion with others by opening a café. In the end, only her family and friends experienced the enjoyment of tasting Edita's delectable dishes. Fortunately BR, the youngest of her eight children, inherited her mother's love of the culinary arts.
Achievement:
Determined to honor her mother's legacy, the Buleng's Fusion Café was born. The name Buleng means grandma in Ilocano, Edita's dialect, and this is was what her grandchildren called her. The café was established in April 2013 in Caba, La Union where Edita and her husband Victor lived and raised their children. Sadly, illness took the lives of both Edita and Victor before they could see the opening of the café. However, they were aware that BR had plans for one. Buleng's Fusion Café borrowed its start-up capital from Responsible Financial Consulting Services (RFCS), which is the financial training, consulting, savings and loan partner of the Waves of Love.
The café quickly became known for its organically grown vegetables, fruit smoothies and fusion menu. It found immediate success by serving school students and municipal employees. During summer, when students are out of school, the café continues to thrive thanks to the patronage of a non-government organization and its seasonal volunteers.
In its second year of operation, Buleng's Café has expanded to a bigger location in the Waves Learning Center. Originally, it occupied a smaller unit on the first floor of the Center. When a second floor was added, Buleng's was ready to lease a bigger unit on that floor. With its steady stream of patrons gained through word of mouth, the cafe was able to grow its business with ease. Its catering activities, in particular, are growing. When it hosts or caters a big event, the cafe hires additional local help. It has catered some parties and events where workers from Quest Building and Maintenance Services, another  Waves of Love partner, have helped with the set up.
Benefits coming from the achievement:
The café's income helps BR support her family of five. The business also helps the Caba community. During school season, BR allows scholarship recipients from Waves of Love to gather at the café so that they can use the free wi-fi for their school research and projects. In addition, the café buys the majority of its ingredients from local organic growers. This benefits the community a great deal because the café has cultivated a good relationship with local vendors by making them its primary suppliers. Most of them are members of the Happy Shine Garden Shop, which is another local business that got its start with assistance from Waves of Love. The café also provides free training to Waves of Love scholars who wish to gain more culinary experience. KL, a restaurant manager/chef and a friend of BR, had heard about the scholars' eagerness to learn. She is a chef in Manila, but when she visits Caba she volunteers to give them free lessons.
Dreams:
Having achieved her mother's dream of establishing a café, BR's dream is to now make Buleng's Fusion Café grow further, because as it continues to expand it will be able to contribute more to the Caba community.
Challenges:
The local success of Buleng's Fusion Café has been remarkable. However, the café is still relatively unknown outside of Caba. That is its main challenge. BR is hopeful the café will attract more customers so she can give more business to local vendors and more job opportunities to the locals. With fresh and organic ingredients growing more popular with the Filipinos, she believes the café is in a great position to capture a bigger market because Caba is next to the bigger cities of Bauang and San Fernando that have dense populations.
Enhancement idea:
BR believes a marketing push will accelerate the expansion of the café, since word of mouth has been mainly responsible for its local growth. BR would like to hire a full time employee to help manage the cafe so that she can concentrate on marketing. She would also like to invest in a delivery vehicle so she can offer delivery services for her catering. The sooner she's able to implement these plans, the quicker the café will grow!