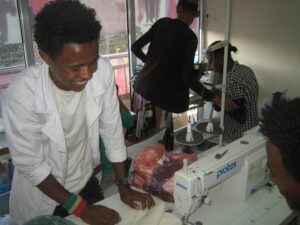 Addis Ababa, ET – Bereket enjoys teacher role – 1 Aug 2014
Retrak's Vocational Training Program for street children in Ethiopia has the ultimate goal to reduce the prevalence of street children in Addis Ababa, by helping them make the transition from street life back to their families and communities through long term resettlement programs.
Six boys are currently enrolled and attending Retrak's Vocational Training (VOT) Program training in tailoring. They have completed four months of training and have a further two months to go. Three of these boys are funded by the grant from Better Lives. A further two boys (who will be funded by Better Lives) are ready to commence VOT training when the next course begins.
The boys are living independently in the community in rooms rented and furnished by Retrak. They have weekly meetings with the Retrak social worker to discuss their progress in vocational training, any problems that have arisen in their accommodation and the challenges they are experiencing in their lives. Follow-up one-to-one counseling is provided when required. Retrak is in the process of recruiting and training community mentors to support the boys through regular mentoring as they complete their training and begin work.
We have been encouraged by the progress of three boys who completed VOT in 2013. Two boys, Telahun and Tigistu (names changed) are now employed in a clothing factory. They are each earning over 2,000 ETB/week, which is a very substantial salary in Ethiopia. They have opened savings accounts and are saving 1,000 ETB/week. Both boys have plans to set up businesses in the future but for the moment they are learning all they can at work and are valued employees. Telahun and Tigistu have shared their experiences with the boys in the Drop in Center and in VOT and are powerful role models.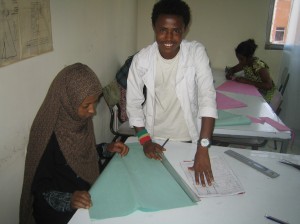 Bereket (name changed) completed his vocational training in December 2013. During training he demonstrated an aptitude for pattern making and design. He was invited to join the staff of the training school as a teacher. Bereket decided to take up this opportunity rather than work in a factory and he is enjoying the role of a teacher.