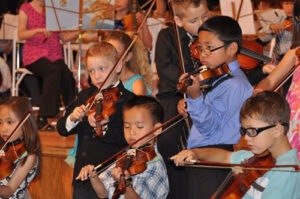 Los Alamitos, USA – Youth Center Season Finale Concert – May 2014
For the first time in a 22 year history offering the only Elementary Music Education option to students, the Youth Center's enrollment topped 400. Because of the successful growth of this program, we were able to provide every student with the opportunity to perform in a finale concert on stage. For the majority of these children, this was the first time in their lives they were able to formally perform in a concert, play their instrument for an audience, and feel boosted levels of self -confidence because of their musical accomplishments.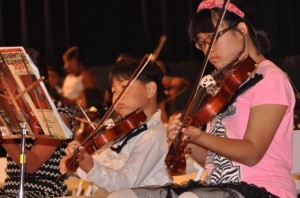 One 5 year old child who participated in the finale, Jordan, said that she discovered she really likes performance and that she will remember this experience for the rest of her life. Jordan's mother, Alicia said that she was very proud of her young daughter's accomplishments and can't believe the increase in her daughter's self-confidence since the concert. "She used to be very shy in social settings, now she looks forward to meeting new friends, I really can't believe this is the same kid."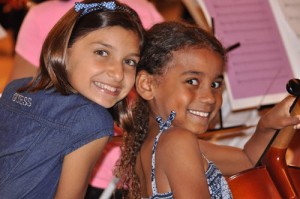 Early this school year, Jeanine came to the Youth Center for the first time in her life. With clear urgency and emotion in her voice, she respectfully asked for this valuable charity's help. "I'm disabled because of a terrible accident at work. I have 2 children and I know about the great things music education can do for kids. Now that I cannot work, I can only afford to pay for one child to take music classes, please help me find a way to let them both learn music." The Youth Center was able to provide Jeanine with a scholarship so that both of her children can benefit from music education this year. Jeanine was tearful and stated that she will be forever grateful for the Youth Center's help.
Jeanine appreciated this scholarship so much that she asked to take an active leadership role in the Youth Center's Community Support Campaign. She helped raise money for other children to get access to music education when they cannot afford it. "I was honored to help the Youth Center raise money that can help other kids from families going through something like mine did. I know about all the great things music can do for kids and I don't want anyone to have to pass it up just because they are going through tough times financially."
Both of Jeanine's children now come to the Youth Center and give back by teaching some of the Free After School Program participants to play the violin. "Samuel and Emily both enjoy giving back in this way and sharing what they learned with other kids," said Jeanine. "They look forward to it and get a strong sense of fulfillment from helping in this way. I can't explain all the different ways this education has helped us."
In the 22 years the Youth Center has been offering Elementary Music Education, countless benefits have been reported by both children and their parents. A recent research study published in 2013 by the Children's Music Workshop showed results that also support music education helping brain development in young children in the areas of both language and reasoning. It is also improves spatial relation reasoning, problem solving, scores on standardized tests, higher grades in high school, teamwork skills and discipline.