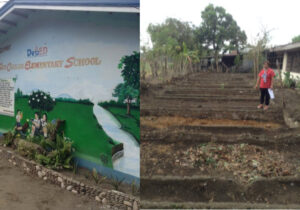 Caba, PH – San Carlos receives water system – 31 Mar 2014
San Carlos Elementary School, a kilometer and a half away from the Caba District Office, is composed of nine (9) dedicated teachers including the School head, and has One Hundred Eighty Seven (187) students, from Kindergarten to Grade VI.
In the past, the school has received and benefited from programs that were implemented in collaboration with Waves of Love Assistance Fund Inc. and Better Lives.  Programs that included breakfast for children of impoverished families.
Prior to building a Food Always In The Home (FAITH) garden, with the help of the Happy Shine Garden Shop team, the school had been participating in the local town's project across all public schools called Gulayan sa Paaralan (School Vegetable Garden).  They had been growing vegetables like string beans, eggplant and okra.  However, the plants had not been very productive, as the school had not been trained in a systematic gardening approach, and also had the challenge of insufficient water.  Teachers and students had to fetch water from a manual hand pump, and carry pails of water quite a distance to the garden.
When these challenges were identified, the school looked for a sustainable solution and approached the Waves of Love Assistance Fund.  Waves of Love asked the Happy Shine Garden Shop and Quest Building and Maintenance Services to consider San Carlos Elementary School for their Food Always IN The Home (FAITH) organic garden and Water, Sanitation and Hygiene (WASH) programs.  Taking action to create a sustainable solution, the Waves of Love and Happy Shine Garden Shop team met and discussed this project with the school head, and teachers.
The Happy Shine Garden Shop team trained the students, teachers and parents how to prepare and maintain a FAITH organic vegetable garden for better results, and provided tools and materials for the garden.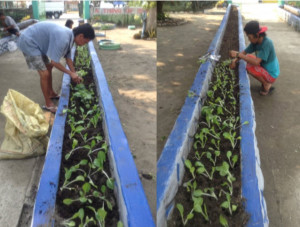 Quest Building and Maintenance Services provided the school with one (1) 1,000 liter Stainless Steel Tank, one (1) Electric Pump, one (1) Steel Tower, along with pipes and faucets.  The Quest team started in February and two (2) weeks later the water system project was completed successfully.

The students, teachers and parents are working and developing their vegetable garden with the very important help of the water system.  Even when classes end this April, they have already set schedules, and will take turns to maintain the school's gardens.  The future yields of the vegetables are planned to be saved for school improvement as needed, and some are being allocated to be served to the under nourished children in the school community for free.
San Carlos Elementary school is very grateful to Better Lives, Waves of Love, Happy Shine Garden shop and Quest Building and Maintenance Services.  The school teachers and parents plan to continue to keep, maintain and be true to our joint objective to create positive change and sustainable solutions, to help other people live better lives.