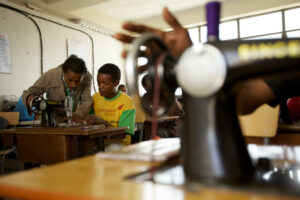 Addis Ababa, ET – Vocational Training – May to Jul 2013
Retrak's Vocational Training Program in Ethiopia has the ultimate goal of reducing the prevalence of street children in Addis Ababa, by helping them make the transition from street life back to their home families and communities through long term resettlement programs.  Programs that include helping the children qualify for jobs.
Six boys are attending vocational training, and are doing well.  One boy in particular has developed excellent skills and aptitude in tailoring. The boys are living independently in the community, three each to a room to support one another and to share the rent.  Retrak pays the rent and continues to pay the boys an allowance each week for food and transport. They have completed two of six months of training.  We are in the process of preparing community mentors to begin following up with the boys each month together with Retrak's social worker.
Two of the Vocational Training boys from last year have jobs in a particular clothing factory and are doing very well. The manager has approached Retrak and asked us to send them more boys when they have completed their training because our boys are excellent workers. This is really encouraging feedback as it indicates that the comprehensive rehabilitation we provide is effective in helping boys to transition from life on the streets, with addictions and psychological problems, to being able to work effectively and live independently. The other boys from last year are all employed and living independently and being followed up by community mentors. A further six to eight boys have expressed an interest in participating in Vocational Training when the next intake cycle begins.