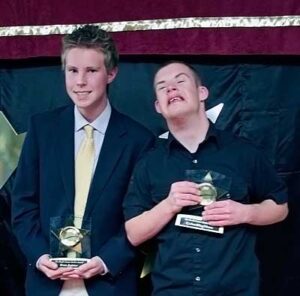 Los Alamitos USA – Volunteer awards – 9 Feb 2013
On Saturday, Feb. 9, the Los Alamitos Youth Center staged a very successful and well attended first annual youth awards event called 'A Night Among the Stars' when music was performed by a quartet of Los Alamitos High School students.
A number of local non-profit organizations; Precious Life Shelter, Grateful Hearts, Seal Beach Lions, Honoring Our Fallen and the Youth Center, introduced their twenty five nominees for two scholarships.  The winners of both scholarships demonstrated that the right 'attitude' can create success!
Cullen Fitzgibbons, nominated by Grateful Hearts, won the first scholarship. Cullen is a special needs student at Los Alamitos High School who helps Grateful Hearts.  He was recognized for how his cheerful and caring attitude brings happiness to the people he helps.
Evan Jenkins, President of the Seal Beach Leos who was nominated by the Seal Beach Lions Club, won the second scholarship . Evan is a latecomer to the Leos who has risen to President because of his great can-do attitude and willingness to be the first to report for work at an event and the last to leave after completing all the clean-up.