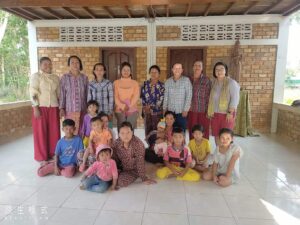 Siem Reap, KH – Mid-wife Beatriz discusses family health with rent-to-own home families – 31 May 2020
Mothers and children of the Peaksneng rent-to-own community had their first family health meetings with Beatriz before the threat of coronavirus stopped the meetings for now. They discussed behavior counseling, disease prevention, and health education topics that assist families to remain healthy and strong. The first step in preparing children for their education!
Rey, the Peaksneng rent-to-own program manager, invited Beatriz to speak with the families because he saw the need and has known and trusted Beatriz for many years.
In 1992, they both lived on Mindanao Island in southern Philippines and met when Beatriz started working for a health and nutrition organization serving tribal people in the remote mountain areas where government services could not reach. Rey's village was in her area of responsibility, and he later joined the same organization as an agricultural aid.
In 2000, Beatriz was trained as a missionary by the Foreign society of Quebec, and later moved to Cambodia to serve HIV pregnant women by assisting them with preventing mother to child HIV transmission. She did this work in partnership with the Mary Knoll Fathers for 8 years. She then moved to assist the Daughters of Charity health and nutrition program as coordinator for their health center in the capital Phnom Penh.
Rey went to Quebec, Canada to be trained as a missionary by the Foreign society of Quebec, and later arrived in Cambodia to establish a church farm north of Siem Reap. When his assignment ended, he returned to Philippines for further organic farming education on Palawan Island and then established a family organic garden program south of La Union on Luzon Island. He then returned to Cambodia to establish a family organic garden program based in Battambang.
It is now 2020 and Rey and Beatriz have met up again in Siem Reap, Cambodia. She is assisting the Saint John parish with their health and nutrition program for prevention of family heath issues, while Rey has been based north of Siem Reap since 2013 where he is the founder and manager of Peaksneng Thormacheat, a social enterprise that assists families to achieve sustainable food and income self sufficiency.
Rey and Beatriz are both committed to assisting families so that their children can grow up healthy, educated and ultimately able to earn an income and support a happy family of their own. We thank them both from the bottom of our hearts!