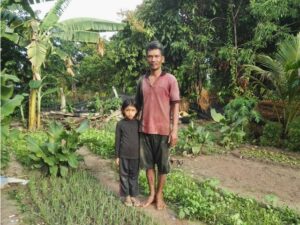 Siem Reap, KH – Back on path towards a dream – 30 Apr 2020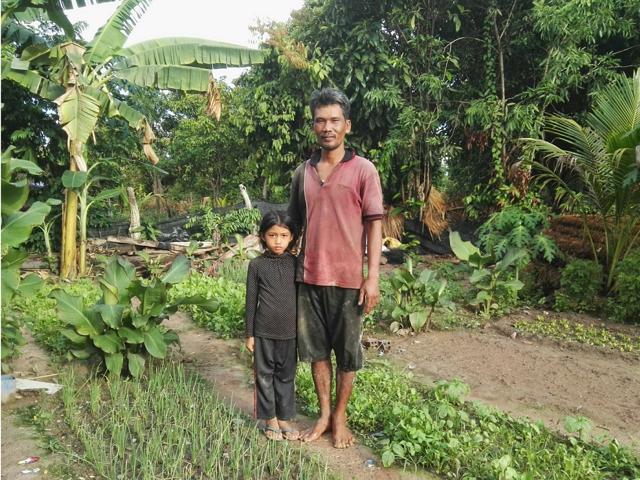 The EL family are back on the path towards their dream of supporting their children in a way that prepares them to gain secure jobs in the future so that they do not grow up as poor as their parents.
It is wonderful and a great relief that they are back on this path because life took such a bad turn for the family when they lost everything they had invested in and built, their togetherness, shop and the land they had purchased in previous years. It was an awful situation for them all, their home was broken and the children were separated from their father EL who had had lost hope.
After a terrible year, and with help from his parents, EL realized that the most important thing in his life was his family. When he understood this, he started taking small steps to rebuild his simple home and vegetable garden, to find work, and repay his debts. Most importantly, he gathered his family together so that they could start to return to normal life and live happily with hope once again! The rebuilt vegetable garden provided the family with nutritious food so that they began to grow strong and healthy.
Coming through the dark days of his life experience has taught EL so much. The values taught by the Peaksneng Thormacheat shop gave him a sense of direction to get back onto the path towards realizing his dream. He also learnt that when facing challenges in daily life, he should keep going by getting up whenever he fell.
The family's challenges are now mainly maintaining their garden's soil fertility, and protecting it from hungry bugs, loose destructive animals, and extreme wet and dry weather. EL knows that he will persevere until he has overcome these challenges, because he and his wife now have the hope of attaining their dream for their children.
The next step on the path towards their dream is qualifying to live in one of the Peaksneng Thormacheat shop's rent-to-own homes.