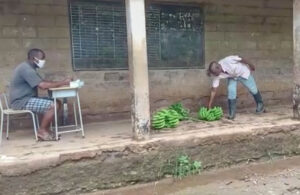 Moshi, TZ – Kahe Primary School continues to supply vegetables and bananas to families after shut down – 15 April 2020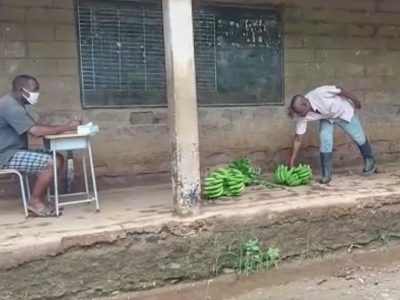 Kahe Primary School along with Tupendane's guidance began limited vegetable and banana distribution to 10 families of garden club students after the Tanzania government shut down schools to prevent the spread of coronavirus.
In March, the Tanzanian government shut down all schools to prevent the spread of coronavirus. This had halted the breakfast serving schedule at Kahe school which provided daily breakfast of corn, beans, vegetables, and sometimes bananas. However, seeing that many students worked so hard on these gardens, Tupendane along with the school organized the families of student clubs to receive a third of a bunch of bananas and daily vegetables from the garden.
During this time it is critical for families to avoid large markets to find food. The markets are crowded and do not provide an opportunity for people to maintain a social distance of 6 feet. Providing vegetables to some families and bananas is one way the community can help themselves stay safe.
Currently, the Tanzanian government is forbidding groups of people above 10 in attendance. This limits the impact Kahe can serve during the day to just 10 families at any given time.
Kahe Primary School hopes to be able to maintain the benefit to all students in need and search for ways to improve.