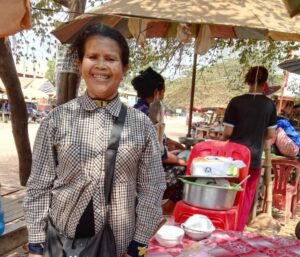 Siem Reap, KH – Noodle seller and husband dream of owning a home – 29 Feb 2020
Rey is the rent-to-own (RTO) community manager, and he is pleased to be be planning the next RTO house for RY and his wife CS because he has known of their interest in eventually owning a home of their own for three years. The three youngest of their five children who are 15, 18 and 19 years old live with them.
Most families qualify to apply for a house by participating in the organic vegetable garden program, which involves Rey's garden shop team assisting a family to build a garden and then with follow-up mentoring.
Instead of joining the program, RY had watched his cousin's program garden grow well, and so built his own productive garden independently. He is an electrician working in the construction industry, who also volunteers as a village community policeman. Last summer he guarded visiting students from UK schools while they were staying at the rent-to-own community's guest house. He always arrived early for his shift and was very caring.
A month ago RY travelled to Thailand to work in construction and earn money for the family's move to their RTO home. He and CS communicated via skype about design decisions for their home. He is planning to be back in two months for moving into their new home.
CS makes and sells local style noodles in front of Peaksneng Village market. She has a kind and honest manner, and always invites Rey to try her noodles when he passes her way. Over the last three years, Rey has grown to like and trust RY and CS, appreciate their kindness and friendship, and understand that they are caring and productive people.
The eldest of their five children is now 30 years old, and they have always dreamt of one day enjoying having a home of their own. Their dream is about to come true!