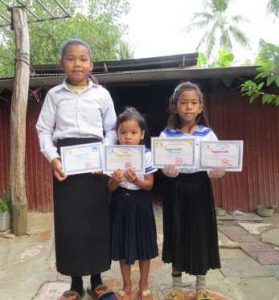 Battambang, KH – Grandchildren are doing well at school – 30 Sep 2019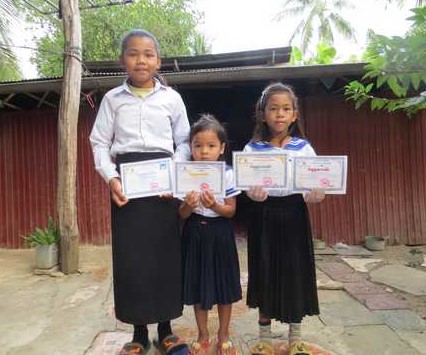 YY and her husband are very proud of their three granddaughters' achievements at school and want to give them every opportunity to study. 
MY (12), CY (9) and SY (5) are living with their grandparents while their parents are working in neighboring Thailand to earn money to support their family. MY is 4th in a class of 40 students, CY is 5th in a class of 35, and SY has twice been monthly class champion! 
The children are very happy at school and love their grandparents and home, even though it is rather small, has a broken wall and a low roof that is leaking and noisy when it rains. They dream of building their grandparents a new home when they grow up.
In the meantime, YY and her husband are applying for a home improvement loan so that they can build more space for their grandchildren's studying, and replace the wall and roof to make them feel more secure and safe.  The children are very happy to hear this and they promise to study even harder.