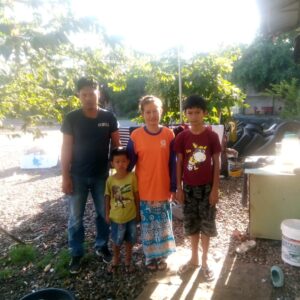 Siem Reap, KH – Family looks to Rent-to-Own affordable housing program for stability – 1 May 2019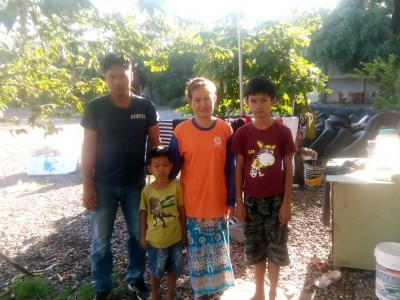 The CER family has sought stability for years. They hope the Rent-to-Own affordable housing program will help them achieve that dream. Mrs. CER's first husband died in a motorcycle accident in 2007. She married her second husband in 2013. Mr. CER is very loving and supportive of all three of Mrs. CER's children, but life has still been challenging for the family.
Peaksneng Thormacheat manager Rey Diaz first met the family when they moved back to Peaksneng one year ago. They moved into a small house near his farm. Rey enjoyed having the CER family as his neighbors and he had great respect for Mrs. CER's efforts to improve her children's lives. She was always working hard and talking with Rey about how she could continue helping her children.
Mr. and Mrs. CER left their children with grandparents and moved to Thailand after they got married. Many Cambodians seek jobs in Thailand because they pay higher wages. The parents hoped they could save enough money to come back to Cambodia and buy some land and a comfortable home to raise their family. They found that, while they made more money in Thailand, their expenses were also much higher and they were not able to save money like they had hoped. They were also at constant risk of deportation and would have to hide at their jobs whenever police came.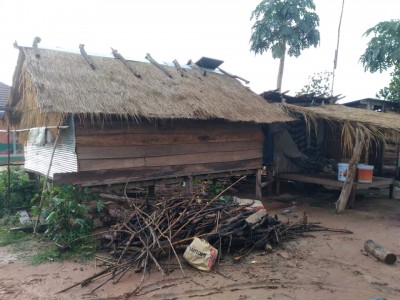 About one year ago the parents moved back to Cambodia and settled in Peaksneng. They struggled to find work until recently when Mr. CER found work as a carpenter in Phnom Penh. Even though Mr. CER works in Phnom Penh, the family wants to remain in Peaksneng because it is a quiet and safe place to raise children. They are hoping to be selected for Peaksneng Thormacheat's Rent-to-Own affordable housing program.
Mrs. CER describes her dream of growing vegetables, raising livestock, and taking care of her children while Mr. CER works in Phnom Penh and comes home on weekends. The thing she loves most about this dream is that, for the first time in their lives, her children would have stability so they could focus on their school work and future opportunities.