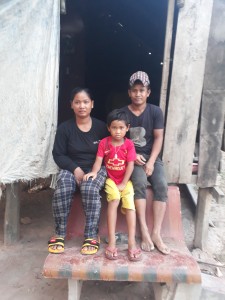 Siem Reap, KH – Lifelong Peaksneng residents see life-changing opportunity in Rent-to-Own – 1 Apr 2019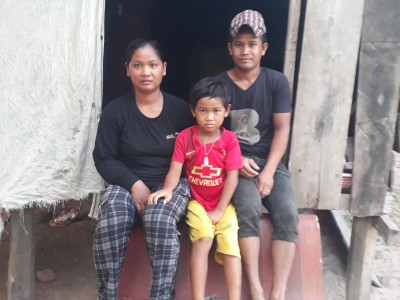 Mr. LKR was born in Peaksneng 30 years ago and has lived there ever since. He sees Peaknsneng Thormacheat's Rent-to-Own affordable housing program as a life-changing opportunity for his family to achieve their dreams and provide their son with a better life.
Peaksneng Thormacheat manager Rey Diaz has known the family for over 10 years, since he first came to Peaksneng. During that time he has gained a respect for Mrs. LKR's work ethic and positive attitude. She has been a dependable employee on many of her neighbor's farms. When no one is hiring for day labor, she works hard to find other ways to make money. Sometimes she buys vegetables from families and sells them on the side of the road. She even opened her own BBQ restaurant for a while. Rey says it was the best BBQ he's ever had in Peaksneng.
"She always finds a way to make some small income for her family," he says, "No matter what. I see a young woman who wants to improve her family and her life. She never sits down. She doesn't wait for her husband or for anyone else. I think she is part of a new generation in Cambodia. Even now while she's pregnant she never stops working hard."
Mr. and Mrs. LKR got married 10 years ago and had their first and only child 7 years ago. They were given a small plot of land from their parents when they were first married. For a few years they lived as subsistent farmers on this small plot. However, their yields decreased as the weather became less predictable. The parents started working as day laborers on nearby farms to make ends meet and Mr. LKR learned basic mechanic skills so he could work part-time at a motorcycle repair shop.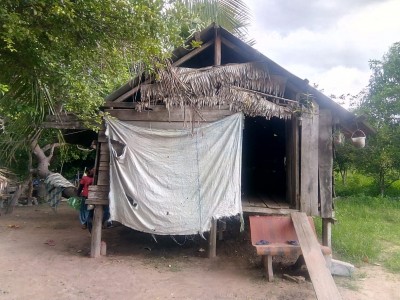 The LKR family works hard, but it is difficult to achieve sustainable life improvements. The parents' dream is to have a safe and comfortable home to raise their son in so that he can focus on his studies and have more opportunities than they did.
Mr. and Mrs. LKR is interested in the Rent-to-Own program because it's an opportunity to own a good home and raise theire family in their home village with people they love and care about. They could also take advantage of the opportunity to start a business in a growing community.
Rey hopes Mrs. LKR will open up her BBQ restaurant again!