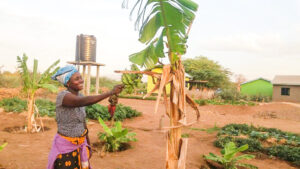 Moshi, TZ – Tupendane and Maendeleo Primary School close to achieving sustainable breakfast dream – 4 Oct 2018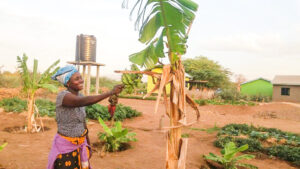 "Our dream is in sight," exclaimed Tupendane manager Deo Matemu, "We really believe 2019 can be the year of sustainable breakfast for Maendeleo."
Tupendane and Maendeleo Primary School have been collaborating since 2011 to design a sustainable school breakfast program. Now, over 800 students and 9 teachers are enjoying breakfast 3 to 4 days per week from food grown at the school's Self-Reliant School Breakfast Farm. Deo and school adminstrators both feel the path to 5-days per week breakfast is now clear. The farm is part of Tupendane's Grow-Your-Own Breakfast program. The program has been a test of Tupendane's ability to combine people, process, and parts to produce sustainable results.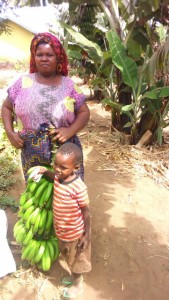 People
The phrase "it takes a village" is applied literally. Students, parents, teachers, and local government all have a role to play. Over the years, Tupendane has learned to assist each of these groups and set them up for success. Tupendane clearly defines each parties' role using an ARCI matrix. Students form garden clubs and maintain vegetable and banana gardens. Parents are led by a Task Force and are responsible for planting corn and beans twice per year. They also manage corn and bean inventory and make sure the proper amount of food is served each week. Teachers schedule time in the day for students to work on gardens, make sure they stay on task, and make sure all gardening equipment is returned after use.
Process
Each group of stakeholders follows a defined process to fulfill their responsibilities. Students can only afford about 30 minutes of work in the garden per day, so they must be efficient to ensure their work gets done. Tupendane collaborates with the parent Task Force to agree the planting process for each crop, and then the Task Force organizes parents to carry out each step in the process. Each process is continuously improved using Plan, Do, Check, Act. This has allowed Maendeleo Primary School to go from struggling to help students maintain 36 vegetables beds to successfully maintaining 96 beds, 409 banana trees, 30 moringa trees, 6 acres of corn and bean farm, and a robust irrigation system.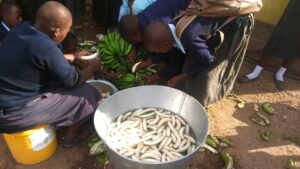 Parts
In addition to the above mentioned farm and gardens, Tupendane and Maendeleo have also installed:
a 4-season well
a 10,000 liter raised water tank
a network of irrigation pipes
14 stand pipes
Other parts that make the program possible include water pumps, gardening equipment, and inputs like seeds and organic sprays.
Challenges
Tupendane and Maendeleo Primary School have also identified what they feel are the key challenges to overcome to achieve their goal of sustainable daily breakfast. Those challenges include:
Crop destruction from animals
Maintaining community enthusiasm
Covering operating costs like fuel and infrastructure maintenance
Insufficient land for "insurance acres" to grow a buffer crop
They are currently developing improvement ideas to address these challenges. They look forward to continuing to take small sustainable steps towards solving these challenges in 2019 so they can deliver breakfast to every student, every school day.