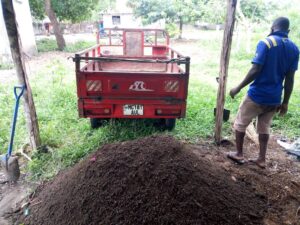 Utete, TZ – Dickson's business trial gains steam and nears income targets – 19 July 2018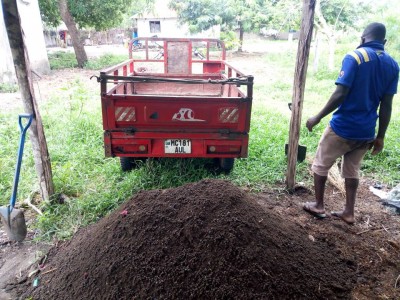 Dickson Taji is trying to prove he can earn a sustainable income using KCM's Toyo (a 3 wheeled motorbike) to operate a small tranport business. Dickson's goal is to work 3 days per week earning income so he can spend the rest of his time supporting KCM's community service initiatives, including their school breakfast garden.
As an organization, KCM's objective is to become financially and organizationally self-reliant. Each employee is starting by trialing a business they believe can cover the cost of their salary in 3 days per week or less. 3 months into his trial, business is gaining momentum and Dickson has earned a net income of 363,000 TZS (US $168). Dickson hopes that by the end of the year he will be able to apply for a loan to either buy a new Toyo or overhaul KCM's Toyo.
His customers include:
Farmers transporting harvests from their fields
Builders transporting construction materials
Shopkeepers transporting wholesale inventory from nearby centers
Next steps for Dickson are to continue growing his customer base and to maintaining an accurate ledger so he can confidently forecast business performance in 2019.