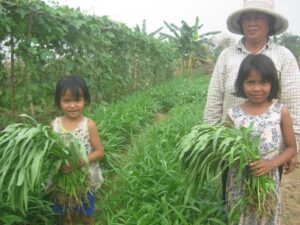 Battambang, KH – Organic growing assists three grandchildren – 31 May 2018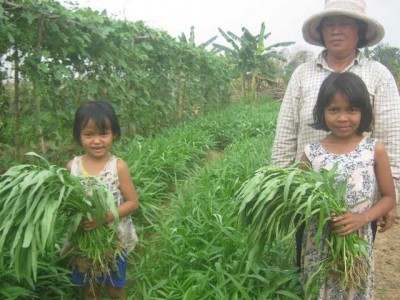 Grandma MM is working hard in her organic vegetable garden to make it productive. This is because it feeds her three grandchildren, and sales of surplus vegetables earn money for living costs and the grandchildren's school expenses.
She is caring for her grandchildren because her daughter and son-in-law have had to travel to Thailand to work in order to pay off a debt that was caused by using chemical fertilizer.
The debt started when they rented land to farm rice, and borrowed money from a micro agent who sold them seeds and chemical fertilizer. From year to year the chemical fertilizer caused the rented land to not maintain its soil nutrients, so it became less productive. This caused their rice growing costs to increase as more chemical fertilizer was needed to compensate for the loss of nutrients. At the same time the price of rice paid by the rice broker became very cheap, which caused them to earn less income and owe the lender more money each year.
MM is caring for their three children while their parents are in Thailand. The two girls are five and seven years old, in grades one and two at school. Their son is ten years old and has just returned from being with his parents in Thailand. He is currently on a waiting list to attend school.
MM is a hard working woman so her garden is always productive. She can earn US$5 to US$10 each time she harvests, which she puts towards living costs and the grandchildren's school expenses. She is planning to send her grandson to school soon even though it will be a financial challenge.
Her dream is to send them all to high school and university, so that they can escape the poverty trap and become self-reliant.