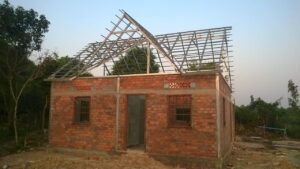 Siem Reap, KH – Family looks forward to new baby and renting-to-own their new home – 30 Apr 2018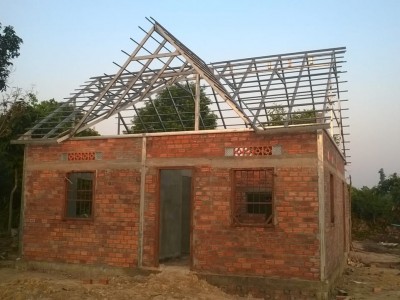 CWC and his family have been collaborating with Rey to design their new rent-to-own home for their growing family. It is being built with a steel frame and bricks instead of concrete and wood because wood has become very expensive. It will be two stories in order to have enough space for the children and new baby.  They hope to move in during July this year.
CWC has been earning an income from his regular job at the garden shop, and also from transporting and selling vegetables from his and his neighbors' vegetable gardens.  All his and his family's efforts mean that they can now afford to pay the rent for a rent-to-own home in the community near the garden shop where he works.
The home comes with enough land for two vegetable gardens, one for feeding the family and one for earning income from sales by delivering the vegetables to customers and the market by motorbike.
The children are looking forward to feeling proud to live in a secure home and playing with the other children in the rent-to-own home community.