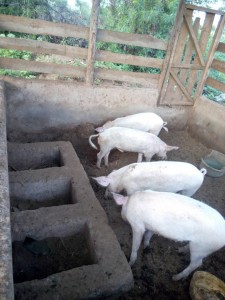 Moshi, TZ- Mama Bustanis' pig bandas looking to improve fattening time – 3 Feb 2018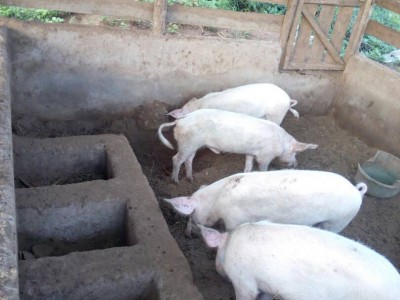 The Tupendane Mama Bustanis' pigs are in good health, but they are growing slower than expected. In order to help the pigs grow more quickly, Tupendane staff and the Mama Bustanis are discussing improvement options for the animals' feed mix.
The Mama Bustanis have learned that the lowest cost feed mix may not be the Lowest Total Cost of Ownership feed mix. They are preparing to pay more per kilo of mix in order to fatten the pigs as quick as possible and maximize profits. The pig bandas built by Tupendane for the Mama Bustanis at Mwangaria and Maendeleo Primary Schools were constructed in efforts to help the schools' breakfast farms become financially self-reliant.
The hope is that the Mama Bustanis' pig bandas will generate income that can be used to cover the salaries of both Mama Elias and Mama Nazaeli. Creating a source of income for the Mama Bustanis will help the school breakfast farms become self-reliant because Tupendane.
The next step in this project is to explore feed mix options that better help the pigs grow so they are able to be sold for income.