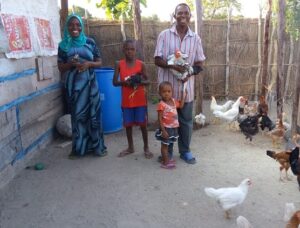 Utete, TZ- OMM Family's Chicken Banda is Taking Flight – 10 Feb 2018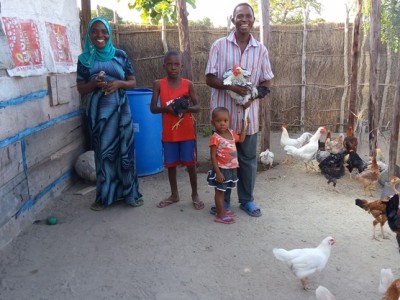 The OMM Family started with 50 chickens in November 2017 and now they have 70. The family is experiencing growth and success with their chicken banda after the project began with a loan used to purchase locally bred chicken.
The father of the OMM family installed a solar system for the chicken banda, which helps the chickens grow faster because they are continuously feeding. Not only has the light helped the chickens, it has also helped improve his 3 children's performance at school. Due to the light from the solar system, the children have more time to read and study at night without having to use kerosene, which also helps them save income.
The OMM family's first daughter, Acheni, is 19 years old
and is at her first year at Dar es Salaam University. She is studying electrical engineering, which is an achievement her family is very proud of. The family's son, Twalib, is 12 years old and goes to Siasa Primary School in Utete and he aspires to become a doctor one day. Their youngest daughter, Rujina, is 3 years old and goes to kindergarten at KLCCDA and plans to attend Siasa Primary School in a couple of years.
The family's health benefits from the project because they are able to use 6 eggs for breakfast every two weeks, and then they save the rest of the eggs for incubation. Also, with easy access to chicken fertilizer, the family uses the fertilizer to help grow their banana and cashew nut farm. They hope this will increase the yields each year. They are forecasting to increase their cashew harvest from 200kg per year to 1000kg per year in the next 2 to 3 years. Each kilogram of cashews sells for 3,500 TZS (US  $1.63).