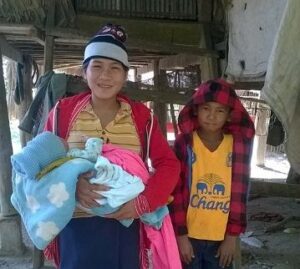 Siem Reap, KH – Family thrives by eating organic vegetables from their garden – 31 Jan 2018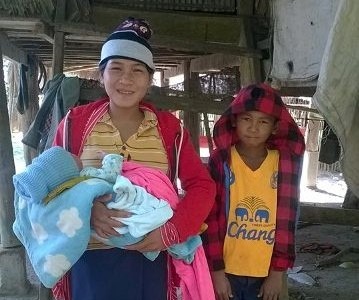 CLL mother was very sick and her baby was malnourished before receiving assistance for her family garden. She was worried that her husband's work was not enough to sustain their living, so she tried to raise extra income and grow food for her family. At first their garden was unsuccessful due to her having little knowledge of how to grow productively. Consequently, she felt overwhelmed and sad.
The Peaksneng Thormacheat shop helped the family improve their garden so that they are now producing enough vegetables to eat and also provide a stream of income. This has enabled them to purchase a chicken and small pig. The garden produces a consistent source of fresh vegetables, which has greatly improved the health of the mother and her new baby.
Now, she is happy and very grateful for the assistance that the family received with the garden because it has created many benefits for the family. The consumption of fresh vegetables has massive health benefits for the family members because the vegetables are full of vitamins and nutrients. Being well nourished and eating healthy food is good for all parts of the body and it helps to improve strength and mood. Taking care of the garden has increased the family's physical activity and creates an appreciation for hard work and the fruits that can come from it.
There are a few challenges that pose a risk to the success of the garden that the family will have to face. During harvest time, their crops could be damaged or stolen by animals, birds, and other people. Floods and droughts are also very common in their village, which can potentially jeopardize the cultivation of the crops from the garden. Throughout the months of February to April, the family will be facing the dry season, which is a time when water is very scarce.
Regardless of the potential challenges, the CLL family is very grateful for the benefits their garden has brought them and they are excited for it to continue to grow. The family hopes that one day they will be able to raise a cow, have a home, and that their child will receive a good education.