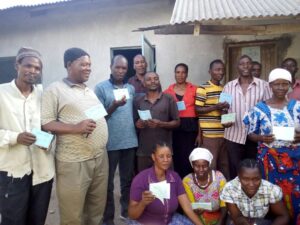 Moshi, TZ – Mwangaria Task Force officially recognized as a credit and loan group – 19 Jan 2018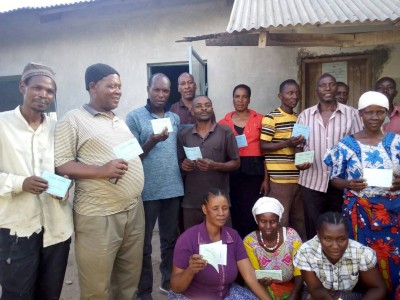 The Mwangaria Primary School Parents' Task Force just received their official certificate from the government to operate as a savings and credit group. The Task Force has been instrumental in the success of Mwangaria Primary School's farming program. They hope that operating as a savings and credit group will improve both their organizational and financial self-reliance.
The Task Force started as just four members. The four original parents were responsible for organizing other parents at Mwangaria to contribute labor to growing corn and beans for students to eat for breakfast. In 2017 the successfully harvested 1,500 kg of corn from 1.5 acres. Success created enthusiasm and respect for the Task Force within the community and in 2018 20 parents signed up to be on the Task Force. They are led by the original 4 Task Force members.
The Task Force decided to organize as a savings and credit group using the Village Community Bank (VICOBA) model. They felt the model would improve the organizational sustainability of the Task Force and the financial sustainability of its members. After two months of training and a lengthy application process, the group's application was approved by the government. They have already been operating the VICOBA informally and in just three months the members have invested 1,250,000 TZS (US $581.40).
One benefit of the VICOBA model is that members must meet every week to make savings deposits and purchases shares. Members want to attend each meeting so they have a say in which loans get funded and they can receive loans. The weekly meeting is a perfect time for the Task Force to discuss short-term and long-term plans for the school farm as well. Meeting each week improves the organizational sustainability of the Task Force.
Members also benefit from access to credit, a savings account, and a support group that will offer short-term no-interest loans for emergencies related health and education.
Everyone is hoping this improvement pays off with healthy harvests in 2018!