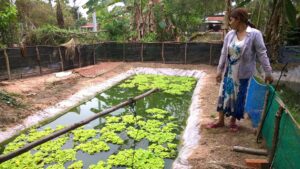 Siem Reap, KH – Pig pen, fish pond, and garden supply food and income – 31 Dec 2017
The LL family is very excited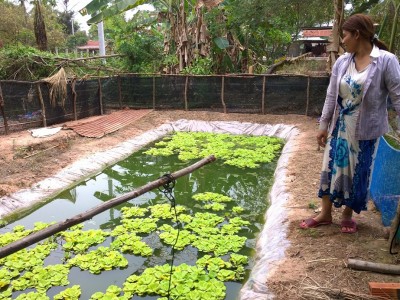 and proud of their recent accomplishments, which include building a pig pen and fish pond, and gaining the ability to raise pigs, chickens, and ducks. The ability to raise these animals allows the family to have a source of food and protein and also provides them with an extra source of income.
All of these accomplishments have created many benefits for the family, especially for the children. Due to the extra income, the children are able to take pocket money to school for food and school  supplies. The children are able to eat a balanced and nutritious diet because the family grow vegetables in their garden and their fish and other livestock provide protein.  Due to this, the children are feeling and looking much healthier. The family's accomplishments and projects serve as a great example for the community and for other families to replicate so that they too can receive some of the same benefits.
Although the family has seen much success with their projects so far, there are a few challenges that they will have to continue to face as they move forward. A steady source of affordable water has been a persistent problem for the family, but water is necessary for their garden to be productive year round. A couple other potential threats the family has are bugs and neighboring animals, which can harm  the garden and fish ponds. Lastly, the market where they sell their vegetables at sometimes has poor prices, so the family is not able to make as much income from selling their crops as they would hope to.
The family is still hopeful and excited about the benefits that they hope their garden and other projects will create for them. The father of the family says that one day he hopes to be able to send his children to college and to own their own home.