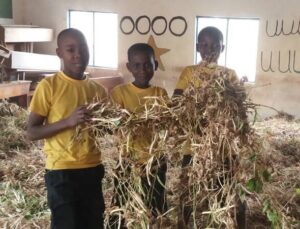 Moshi, TZ – Maendeleo bean harvest provides emotional and nutritional boost for students – 5 Oct 2017
At the end of September Maendeleo Primary School harvested 1,900 kg of beans from their 2.5 acre farm. The successful harvest has made the students excited to continue working on their Self-Reliant School Breakfast Farm. It will also help provide them with nutritious breakfast.
The school estimates that the value of the harvest is 66% higher than the value of inputs they invested in the farm. This information will help Tupendane plan a sustainable life cycle for planting beans at school. Part of the design will include saving and selling beans each year to pay for inputs the next year.
Tupendane also tracked the actual schedule followed including watering, spraying, and applying boosters. All of this information will enable more accurate planning as well as Continuous Quality Improvement (CQI) ideas for future planting seasons.
In addition to planning future harvests, Tupendane will also use the harvest information to continue improving their target breakfast recipe. The Self-Reliant School Breakfast Farms are designed to provide students with daily nutritious breakfast. The recipe must provide a balanced meal with low Total Cost of Ownership operation of the farm. Learning about how different crops are harvested will help Tupendane plan the most efficient and effective breakfast recipe.